HOME
Press
Ministry News
Ministry News
Ministry News 상세보기
Minister of Foreign Affairs Holds Telephone Conversation with U.S. Secretary of State
Date : 2021-02-12 13:11:22
Hit : 2906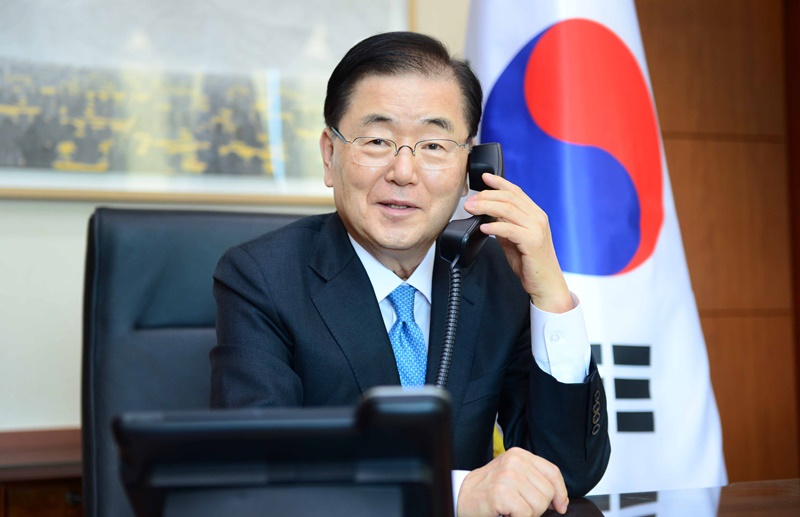 1. Minister of Foreign Affairs Chung Eui-yong spoke over the phone with U.S. Secretary of State Antony J. Blinken on February 12, and exchanged views on issues of mutual interest, including ROK-U.S. relations and Korean Peninsula issues, as well as regional and global affairs.

​
2. Foreign Minister Chung and Secretary Blinken reaffirmed that the ROK-U.S. Alliance is the linchpin of peace, security and prosperity for Northeast Asia, the Indo-Pacific region, and across the world. They agreed to further develop the Alliance to address global issues and contribute to the promotion of shared values.

o Foreign Minister Chung and Secretary Blinken also agreed to hold high-level consultations at the earliest opportunity.


3. The two stressed that they will work closely together to pursue complete denuclearization of the Korean Peninsula.

4. Foreign Minister Chung agreed with Secretary Blinken on the importance of continued ROK-U.S.-Japan cooperation. The two also discussed their concerns over the recent situation in Myanmar.

Next Outcome of Telephone Conversation between Korean and Russian Ministers of Foreign Affairs
Prev Outcome of Telephone Conversation between Special Representative for Korean Peninsula Peace and Security Affairs and U.S. Acting Assistant Secretary of State for East Asian and Pacific Affairs (Feb. 10)