HOME
Press
Ministry News
Ministry News
Ministry News 상세보기
Vice Minister of Foreign Affairs Choi Meets with Ambassador of Norway to ROK Frode Solberg
Date : 2020-10-21 11:23:37
Hit : 1919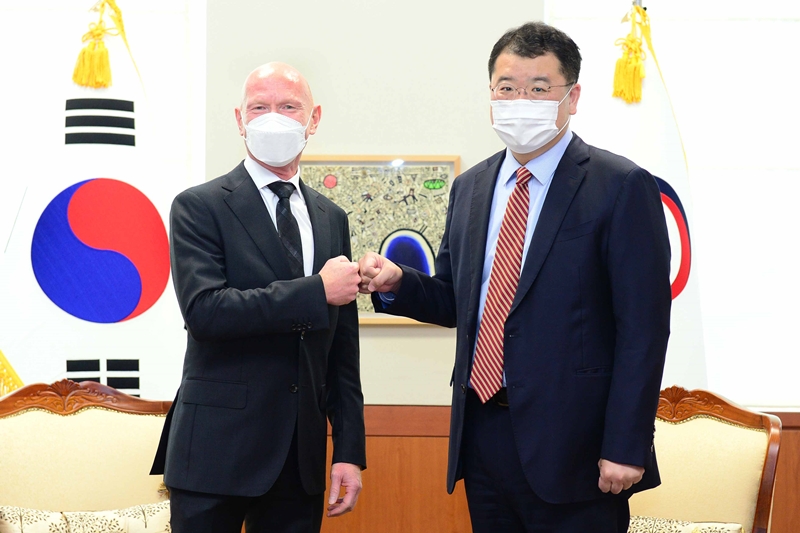 1. Vice Minister of Foreign Affairs Choi Jong Kun met with Ambassador of the Kingdom of Norway to the Republic of Korea Frode Solberg on the afternoon of October 16, and had an extensive exchange of views on advancing the ROK-Norway relations, cooperation in COVID-19 response, and cooperation on the international stage including the selection of the World Trade Organization (WTO) Director-General.
2. Vice Minister Choi noted with appreciation that momentum has been built for enhancing bilateral relations through President Moon Jae-in's state visit to Norway last year, which marked the 60th anniversary of the establishment of diplomatic relations between the ROK and Norway, and suggested that the two countries continue working together to expand bilateral cooperation into future-oriented areas, including Arctic, health, and eco-friendly issues.
o Ambassador Solberg expressed hope that the two countries would actively carry out high-level exchanges, and said that his country will make efforts to further advance the ROK-Norway cooperative partnership.
3. Meanwhile, Vice Minister Choi asked Norway to positively consider joining the International Vaccine Institute (IVI) which is actively participating in research and development of COVID-19 vaccines, and hoped that the two countries would continue to work together on multilateral health cooperation.
o Ambassador Solberg commended the ROK's COVID-19 response, and hoped to strengthen cooperation with the ROK in developing vaccines as well as sharing experiences in preventing and controlling COVID-19.
4. Vice Minister Choi asked for support for Trade Minister Yoo Myung-hee, who has advanced to the final round of the selection process for the WTO Director-General, and Ambassador Solberg congratulated Minister Yoo on advancing to the final round and praised her outstanding capacities and qualifications.
5. The two sides agreed to maintain strong cooperative partnership, while sharing important values including democracy, respect for human rights, and the rule of law, and continuing close communication on various bilateral and multilateral issues.

Next Minister of Foreign Affairs Has Virtual Meeting with her Finnish Counterpart Haavisto
Prev ROK and NATO Preside over Plenary Meeting of Afghan National Army Trust Fund Board as Co-chairs