HOME
Press
Ministry News
Ministry News
Ministry News 상세보기
FM Attends G20 Extraordinary Foreign Ministers' Meeting
Date : 2020-09-07 17:39:40
Hit : 840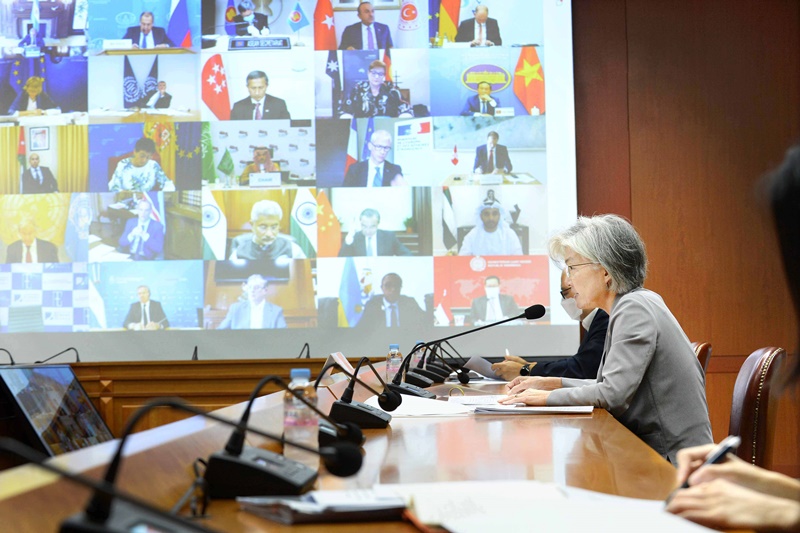 1. Minister of Foreign Affairs Kang, Kyung-wha attended on behalf of the Republic of Korea the G20 Extraordinary Foreign Ministers Meeting held at 21:00-23:20, September 3, Korea Standard Time, in a virtual format, ahead of this year's G20 Summit, which is scheduled to take place in the Kingdom of Saudi Arabia on November 21-22.

2. The Meeting covered appropriate border management measures in response to the COVID-19 pandemic as well as ways for cooperation among the member countries in supporting repatriation of their nationals.


° A number of G20 member countries shared the view that, while respecting each country's quarantine measures, it is necessary to ensure smooth transport of merchandise and movement of people for the recovery and growth of the global economy.

3. Minister Kang, Kyung-wha explained that, facing a critical juncture due to the spike in new cases, the ROK has been responding thoroughly to the situation based on the values of openness, transparency, and trust and civic participation.

° With regard to cross-border management, the Minister stressed that the ROK has controlled the overseas influx of the virus without imposing a full-scale entry ban. She went on to emphasize that, in order to achieve economic recovery and restore global supply chains, it is important to permit travel of essential personnel, including business people and workers, while respecting each country's quarantine measures.

° In particular, the Minister introduced the "fast track" procedures the ROK government has established with several countries and proposed expanding such procedures with countries where conditions allow and holding multilateral discussions among interested countries.


° Minister Kang extended appreciation to all the countries that lent their cooperation and assistance in the repatriation of Korean nationals. With respect to the recent cases in which a confusion over visa issues had caused damage to travelers on connecting flights, she stressed that such cases should be prevented through sufficient information sharing between relevant authorities.
4. The G20 member countries will prepare for the G20 Summit in November to successfully deliver outcomes together by thoroughly implementing cooperative measures in response to COVID-19 through sectoral ministerial and Sherpa meetings.

Next Deputy Minister for Political Affairs Holds Virtual Consultation with New Zealand's Senior Official for ASEAN Alison Mann
Prev ROK Chief Negotiator for North Korean Nuclear Issue Holds Telephone Consultations with his Japanese Counterpart and Swedish Special Envoy for Korean Peninsula