HOME
Press
Ministry News
Ministry News
Ministry News 상세보기
Telephone Conversation between ROK Foreign Minister and Mexican Foreign Secretary
Date : 2020-03-07 13:59:23
Hit : 1097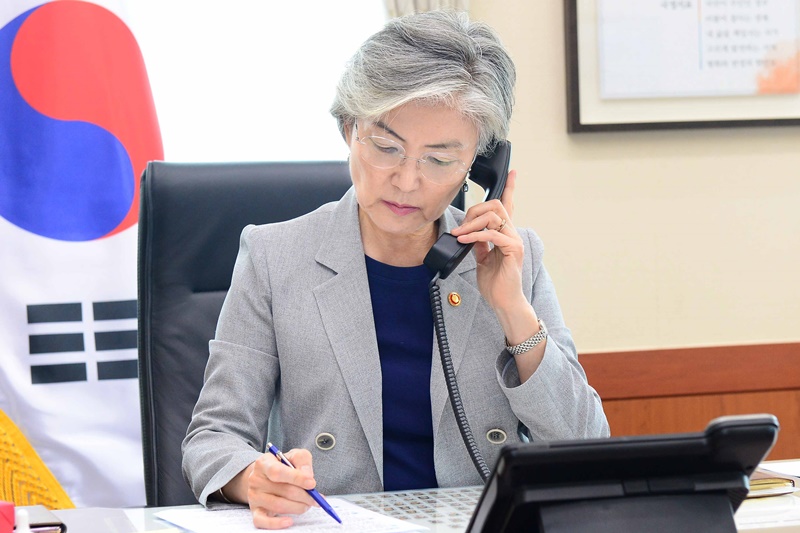 1. Minister of Foreign Affairs Kang, Kyung-wha had a telephone conversation with Secretary of Foreign Affairs of Mexico Marcelo Ebrard on the morning of March 7, and asked the Mexican government not to take excessive and unreasonable restrictions in response to the COVID-19 outbreak.


2. In addition, Minister Kang stressed that Mexico is the Republic of Korea's largest trading partner in Latin America as well as a country with significant importance that has established the Strategic Partnership with the ROK, and asked the Mexican side to actively cooperate in ensuring that no further restrictive measures will be imposed on Korean nationals and companies based on the confidence in the ROK government's quarantine efforts against COVID-19.


o Minister Kang explained in detail that although COVID-19 is spreading in the ROK, the Korean government is making its best efforts in all areas in a prompt and transparent manner based on its strong capabilities for diagnosis and epidemiological investigation.

3. Secretary Ebrard fully noted the ROK government's efforts regarding COVID-19 as very impressive, and said that Mexico will continue to work to ensure that exchanges and cooperation between the two countries are not damaged in the course of tackling the COVID-19 outbreak.


o Secretary Ebrard said that the Mexican government is placing great importance on the ROK-Mexico relations and taking measures to prevent the spread of COVID-19 at an appropriate level in line with the WHO recommendations, and will continue to consult with the ROK.
4. In the telephone conversation, Minister Kang and Secretary Ebrard agreed on the importance of cooperation between the two countries in responding to the COVID-19 outbreak, and agreed to continue close communication on the basis of friendship and trust between the two countries.

Next ROK Government to Receive Relief Supplies from Chinese Government as Support over COVID-19
Prev 2nd Briefing Session on ROK Government's Response to COVID-19 Held for Diplomatic Corps in ROK