HOME
Press
Ministry News
Ministry News
Ministry News 상세보기
ROK-Jordan Foreign Ministerial Meeting Takes Place
Date : 2020-02-25 17:20:34
Hit : 210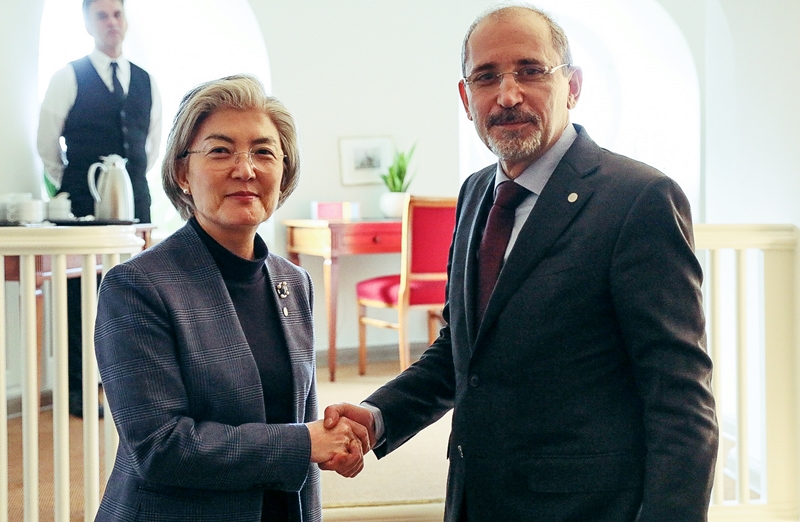 1. On the occasion of the 2nd Ministerial Meeting of the Stockholm Initiative on Nuclear Disarmament and the Non-Proliferation Treaty (NPT), Minister of Foreign Affairs Kang, Kyung-wha had a meeting with Mr. Ayman Hussein Al-Safadi, Minister of Foreign Affairs and Expatriates of the Hashemite Kingdom of Jordan, on the morning of February 25. The two sides exchanged views on the response of the government of the Republic of Korea (ROK) to the novel coronavirus (COVID-19) and Jordan's entry ban for Koreans as well as the ROK's plan to host a Partnering for Green Growth and the Global Goals 2030 (P4G) Summit.


2. Minister Kang explained the current situation of Korea's transparent, government-wide response to COVID-19, expressed regret over the Jordanian government's recent announcement of an entry ban for Koreans without any prior notification or consultations, and asked for a careful reconsideration of the measure. She also asked for Jordan's full cooperation in any future event of Koreans being placed under quarantine measures.


° Minister Al-Safadi mentioned that Jordan had provided support for Korean travelers, such as arranging flights for their safe return home, and that it will continue to make best efforts for support in close communication and consultations with the ROK side.


3. Minister Kang spoke about the 2nd P4G Summit to be held in Seoul in June 2020, asking Jordan, a key Middle Eastern member of the Global Green Growth Institute (GGGI), to attend the event and share a vision for sustainable development.


° Minister Al-Safadi, commending the ROK government's efforts in responding to climate change, mentioned that Jordan will consider attending the P4G Summit.


4. The two Ministers noted with appreciation that the ROK and Jordan have developed close bilateral relations as friendly nations since the establishment of diplomatic relations in 1962 and, especially, have worked closely together on the international stage.
° In particular, the two sides shared the understanding that the two countries have great potentials to cooperate on the basis of their common factor -- the achievement of economic development despite insufficient natural resources and difficult security conditions. On that note, they agreed to explore the possibility of promoting substantive bilateral cooperation in such areas as energy and water resources.

Next ROK and U.S. Chief Negotiators for North Korean Nuclear Issue Hold Telephone Consultation
Prev FM Delivers Statement at High-level Segment of 43rd Session of UN Human Rights Council