HOME
Press
Ministry News
Ministry News
Ministry News 상세보기
FM Meets with Under-Secretary-General for Peace Operations of UN DPO
Date : 2020-02-17 13:52:19
Hit : 1331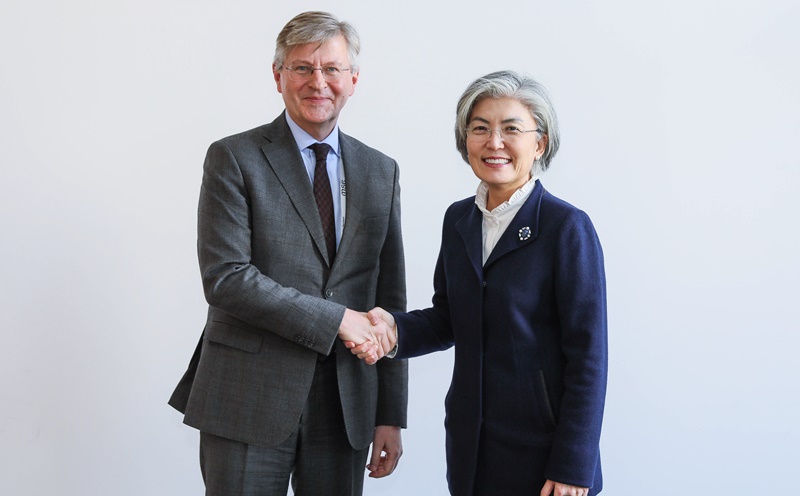 1. On the occasion of the 56th Munich Security Conference held in the Federal Republic of Germany, Minister of Foreign Affairs Kang, Kyung-wha had a meeting with Mr. Jean-Pierre Lacroix, Under-Secretary-General for Peace Operations of the United Nations (UN) Department of Peace Operations (DPO), on the afternoon of February 15, local time.

2. Minister Kang introduced the fact that the Republic of Korea (ROK), a major troop and the 10th-largest financial contributor to the UN peace operations, has contributed to the UN peacekeeping operations (PKO) by diversifying its areas of support to include training, technology, and medical service. Under-Secretary-General Lacroix mentioned that the ROK's military units dispatched to UN peacekeeping missions are recognized for their outstanding discipline and effective system, and commended the ROK for expanding role in and contribution to UN peace operations.

° In particular, Minister Kang mentioned that in 2021, the year marking the 30th anniversary of the ROK's accession to the UN, the ROK will host the 4th UN Peacekeeping Ministerial and thereby further increase its contribution to the UN's peace and security efforts. The two sides agreed to work closely together for the Ministerial to produce tangible and substantive results.

3. Minister Kang also voiced hope that capable Korean nationals would be allowed more opportunities to exert their competence in the area of the UN's peace and security, asking for Under-Secretary-General Lacroix's special support and attention.

Next Bilateral Meetings between Minister of Foreign Affairs and her Danish, Spanish and German Counterparts Held on Occasion of 56th Munich Security Conference
Prev Bilateral Meetings between Minister of Foreign Affairs and her Lithuanian, Finnish and Norwegian Counterparts Held on Occasion of 56th Munich Security Conference