HOME
Press
Ministry News
Ministry News
Ministry News 상세보기
Korea, Brunei to boost cooperation in energy, infrastructure
Date : 2019-03-14 09:59:12
Hit : 623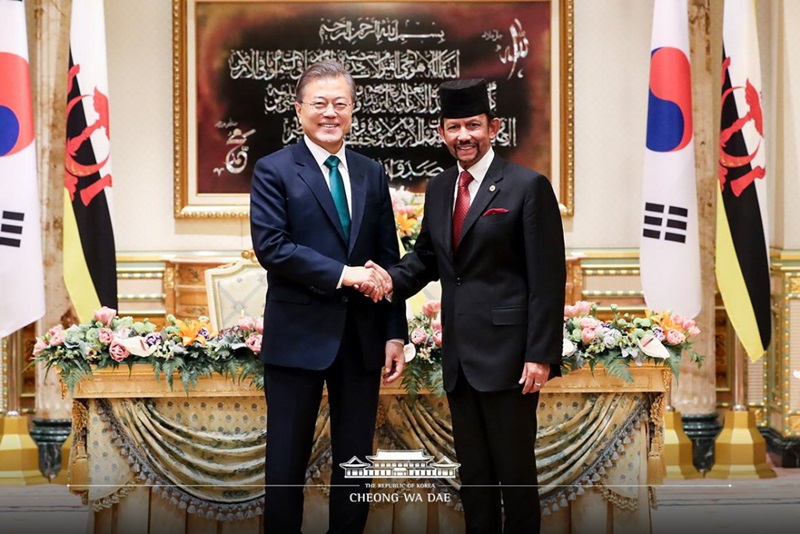 Korea, Brunei to boost cooperation in energy, infrastructure
March 11, 2019

By Park Gil-ja and Lee Hana
President Moon Jae-in on March 11 held a summit with Brunei Sultan Hassanal Bolkiah on the first leg of his tour of three Southeast Asian nations, with both leaders agreeing to strengthen bilateral cooperation in energy and infrastructure.
The two pledged to deepen cooperation in the liquefied natural gas (LNG) value chain, a four-step process involving the production, liquefaction, transportation and regasification of LNG.
They also discussed increasing cooperation in intellectual property and science and technology, two areas that could spawn new growth engines.
President Moon thanked Bolkiah for fully supporting his decision to host a special Korea-ASEAN (Association of Southeast Asian Nations) summit in Seoul later this year.
At the summit in Brunei, memorandums of understanding were signed to advance bilateral cooperation in technology and innovation covering areas such as technological investment, patent cooperation treaties, and science and technology.

President Moon Jae-in and Brunei Sultan Hassanal Bolkiah on March 11 inspect an honor guard in a welcoming ceremony at Istana Nurul Iman, the seat of the Brunei government. (Cheong Wa Dae)

Before the summit, President Moon attended a welcoming ceremony as the first Korean leader to visit Brunei in 19 years. He was greeted there by the sultan and his wife at the Istana Nurual Iman, the sultan's official residence.
"This year we will celebrate 35 years of diplomatic relations between our two countries, and Brunei has been appointed country coordinator for ASEAN-Korea dialogue. This makes your visit all the more meaningful. I look forward to closer cooperation between our countries in the future," Bolkiah said.
President Moon said, "Brunei is an important partner for Korea in implementing its New Southern Policy. It makes me very happy to see Korean companies win contracts to build bridges in Brunei like the Temburong Bridge."
"I hope that Korea's people-centered New Southern Policy and Brunei's Vision 2035 will both forge ahead so that we can expand bilateral cooperation in new technologies and bring prosperity to our regions."

Next Remarks by President Moon Jae-in at ROK-Malaysia Summit
Prev Signing Ceremony for ROK-US Special Measures Agreement Takes Place