HOME
Press
Ministry News
Ministry News
Ministry News 상세보기
FM visits Jeonju with Diplomatic Corps in the ROK
Date : 2018-09-10 16:29:50
Hit : 877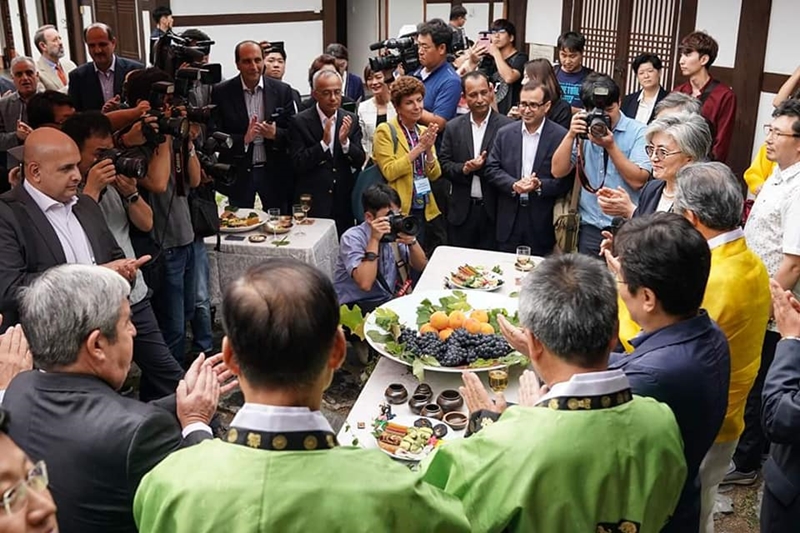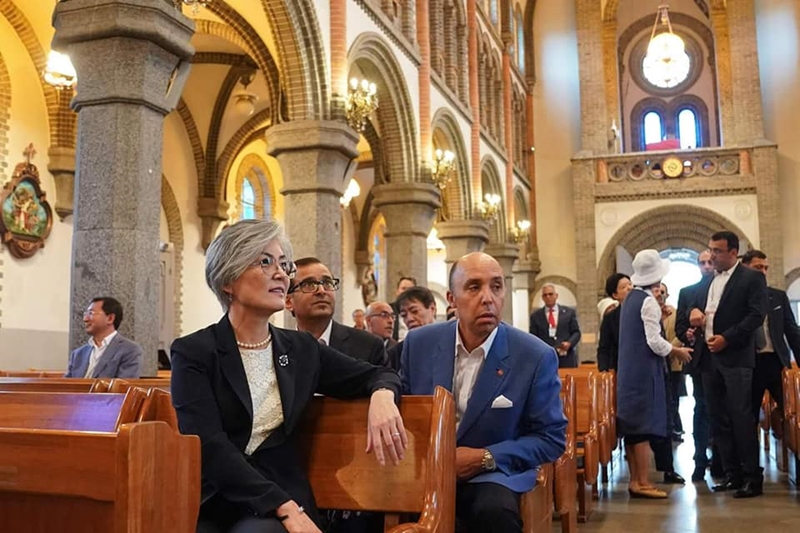 FM Kang Kyung-wha and Diplomatic Corps in the ROK visited Jeonju, a UNESCO City of Gastronomy, on September 7. Served at the day's luncheon was bibimbap, a dish that brings together a variety of ingredients in one harmonious bowl. The diplomats conversed over tea at Seunggwangjae, a traditional Korean house which carries on the spirit of the Korean Empire. They then went on a promenade through the Gyeonggijeon Shrine, which holds the portrait of Joseon Dynasty's founder King Tae-jo, and visite...d the Jeondong Catholic Cathedral, built in 1914.
At Jeonju, Foreign Minister Kang Kyung-wha expressed her delight at visiting the city with members of the Diplomatic Corps, gathered the public's opinions on current developments on the Korean Peninsula including the special delegation's visit to North Korea, and explained our government's efforts to step closer to the Korean people.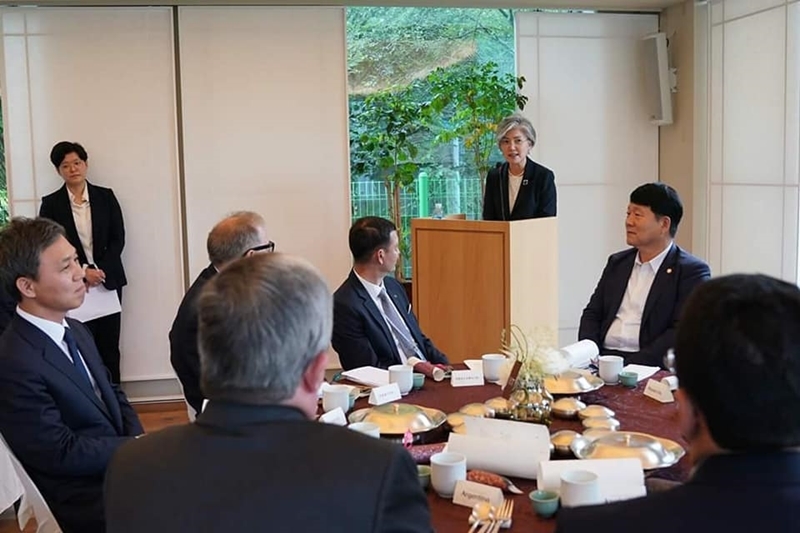 Mayor Kim Seung Su (김승수) of Jeonju,
President Park Byung Sool (박병술) of the Jeonju City Council,
Dear Colleagues of the Diplomatic Corps,
Ladies and Gentlemen,
Let me begin by extending my sincere appreciation to Mayor Kim for inviting my esteemed colleagues and myself to this luncheon on this beautiful early autumn day. It is a joy to meet with my colleagues of the Diplomatic Corps again here in Jeonju, a city rich in culture and epicurean delights, which was recognized as a city of gastronomy by UNESCO in 2012.
I hope I speak for everyone when I say we've enjoyed a fruitful outing today. Through this excursion, we wanted to offer you an opportunity to experience the serene beauty and history of Jeonju, and its long-held reputation as a deeply cultural and artistic locale. The city boasts a myriad of cultural spaces where passionate young artists can come together to share and explore their artistic creations, as you witnessed today at the Palbok Contemporary Arts Factory (팔복예술공장).
Before our luncheon this morning, I had the chance to meet with about one thousand bright young university students studying here in Jeonju, to explain to them the direction of my government's foreign policy, and in turn hear their views and opinions on Korea's foreign policy. It was an inspiring experience, as lending a keen ear to people's thoughts and their realities is an essential policy initiative of my government, and an important part of the public diplomacy that my ministry is actively pursuing.
Ladies and gentlemen,
As some of you may have already known, one of Jeonju's staple cuisines is bibimbap, which is also one of the most celebrated Korean dishes around the world. The dish, while being quite delicious and full of nutrients, is also the very manifestation of harmony, mixing various ingredients including vegetables, meat, rice and sauce so that they come together as one meal in one bowl. It was meaningful in more ways than one, therefore, that bibimbap was served at the dinner of the historic Inter-Korean Summit held in Panmunjom last April.
Following the Summit, my government has continued in its efforts to implement the Panmunjom Declaration. Just two days ago, we sent a Special Envoy to Pyongyang in order to move forward such efforts. The path toward complete denuclearization and permanent peace on the Korean Peninsula is ongoing, and my government will continue to envision creative solutions for any situation we face. I ask my colleagues of the international community to continue to render their invaluable support for our efforts.
Ladies and gentlemen,
Our day is not quite finished yet, as the city of Jeonju has more left to offer. After lunch, we will be taking a tour of the Jeonju Hanok Village, a nest of ancient Korean architecture which houses over 800 homes built and preserved according to tradition. I do hope the tour, and the rest of our excursion today, were able to give you a further glimpse into this city's abundant trove of culture and history, and its careful harmony between tradition, the present and the future.
Thank you. /End/
Next Foreign Minister Meets with US Special Representative for North Korea Biegun
Prev Foreign Minister Communicates with Foreign Ministry's Policy Advisors