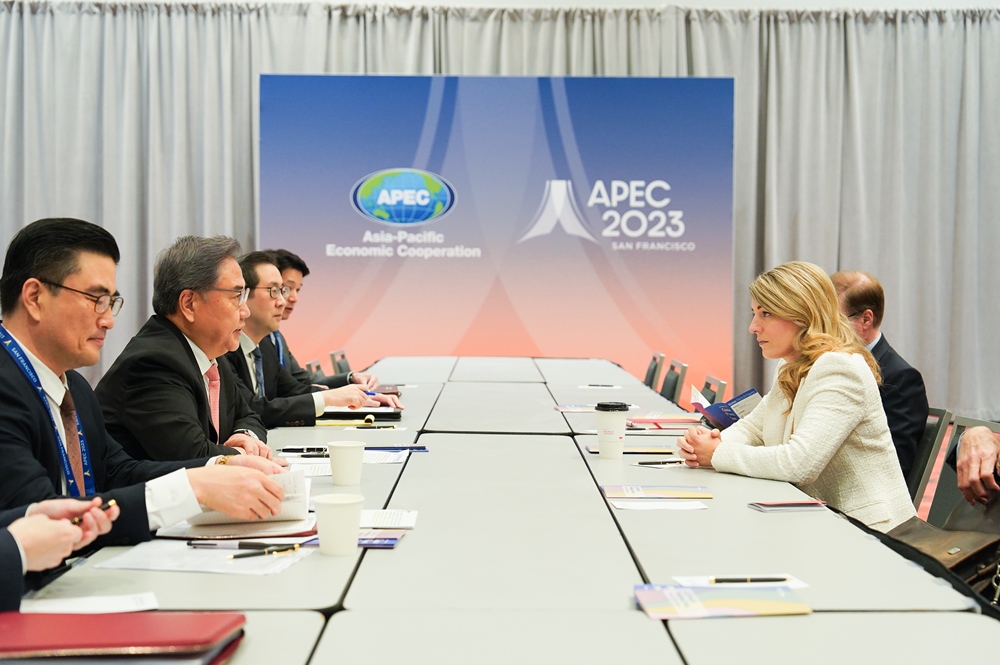 1. On the sidelines of the 2023 Asia-Pacific Economic Cooperation (APEC) Summit, Minister of Foreign Affairs Park Jin had a meeting with Minister of Foreign Affairs of Canada Mélanie Joly on November 15 at the latter's request. During the meeting, the two Foreign Ministers exchanged views on the follow-up measures to the Korea-Canada summits held in September of last year and May of this year, cooperation on Indo-Pacific strategies, and regional and global affairs, etc.
2. This Foreign Ministers' Meeting was the third formal Korea-Canada Foreign Ministers' Meeting since the inauguration of the current Korean government and took place about three months after the one held on the sidelines of the Bled Strategic Forum in August.
3. The two Foreign Ministers noted with appreciation steady advances in the Comprehensive Strategic Partnership between the two countries through active bilateral high-level exchanges and agreed to expedite the implementation of the agreements reached by their leaders. In this vein, the two Foreign Ministers appreciated the active ongoing discussions, including on fleshing out cooperation projects between the two countries.
4. The two Foreign Ministers took note that the two North Pacific countries have been continuing discussions at various levels on ways for cooperation in the Indo-Pacific region. On that note, they agreed to continue advancing cooperation in the North Pacific and Indo-Pacific regions, as they mark the first anniversary of the announcement of their respective Indo-Pacific strategies.
5. Foreign Minister Park extended appreciation to the Canadian government for its efforts to thoroughly implement United Nations Security Council resolutions on the Democratic People's Republic of Korea (DPRK). With regard to the DPRK's human rights issue, the Foreign Minister also expressed gratitude to the Canadian government for its special attention to and support for the human rights situation in the DPRK highlighted in Canadian Prime Minister Trudeau's address before the Korean National Assembly in May and asked for Canada's continued support for Korea's efforts to promote human rights in the DPRK. Foreign Minister Joly, consenting to the importance of resolving Korean Peninsula issues and promoting human rights in the DPRK, agreed to consult closely with Korea to step up bilateral and multilateral cooperation going forward.
6. The two Foreign Ministers stressed that their two countries have supported and agreed to continue to take part in diverse diplomatic and economic efforts of the international community to bring an end to the war in Ukraine and contribute to the restoration of peace. In addition, sharing concerns over the current situation in the Middle East, the two Foreign Ministers agreed to work closely with the international community to resolve the crisis.