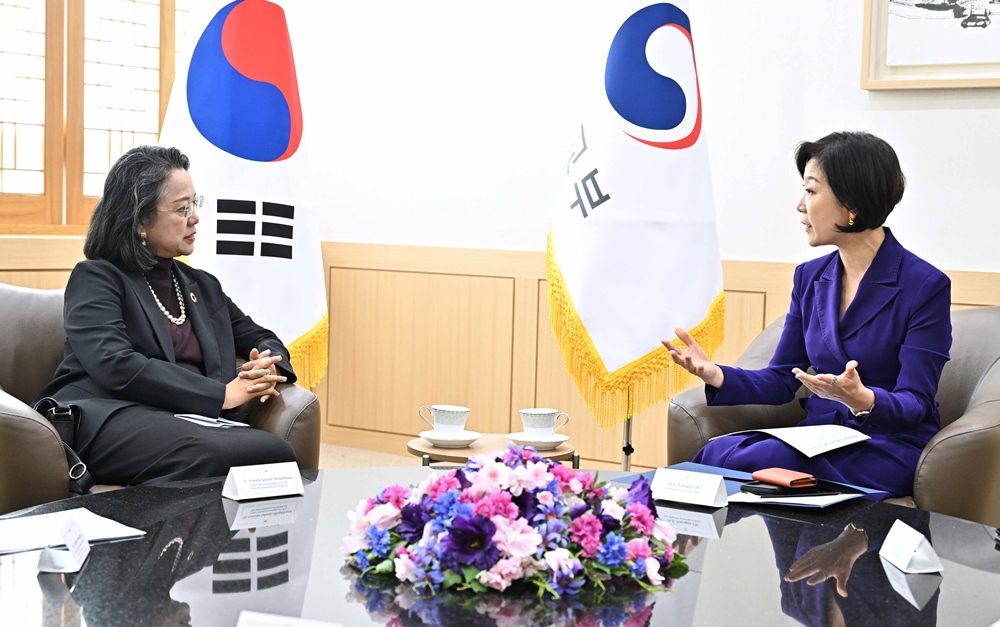 1. Vice Minister of Foreign Affairs Oh Youngju met with Ms. Armida Salsiah Alisjahbana, Executive Secretary of the United Nations Economic and Social Commission for Asia and the Pacific (UN ESCAP), who is visiting Korea for the 8th Asia-Pacific Urban Forum, on Wednesday, October 25.
2. Vice Minister Oh commended the UN ESCAP for its active role in promoting sustainable development in the region as the UN's largest intergovernmental organization in the region and stated that Korea will continue to cooperate with the UN ESCAP in addressing major challenges in the Asia-Pacific region, including climate change and sustainable cities.
3. Vice Minister Oh provided a detailed explanation of the Korean government's Strategy for a Free, Peaceful and Prosperous Indo-Pacific Region and the ASEAN-Korea Solidarity Initiative (KASI); highlighted that the government is leading the launch of the Carbon Free Alliance (CFA) to promote carbon-free energy and bridge the climate gap between developed and developing countries in the fight against climate change; and emphasized Korea's commitment to cooperate with the UN ESCAP pursuant to Korea's new international cooperation initiatives.
4. Ms. Alisjahbana expressed her interest in Korea's Indo-Pacific Strategy and introduced key projects that the UN ESCAP is working on with Korea, extending appreciation to Korea for its active contribution to addressing key issues in the region.
5. Vice Minister Oh asked the UN ESCAP to actively work to ensure that the contributions of Korea, the largest donor to the UN ESCAP, are used more effectively and efficiently to achieve sustainable development goals in the region. Vice Minister Oh and Executive Secretary Alisjahbana agreed to continue communication through the annual bilateral consultation on Korea-UN ESCAP cooperation.
* Core donors to the UN ESCAP (2022): Korea (US$4.68 million), China (US$3.07 million), Canada (US$1.65 million), Russia (US$1.2 million)