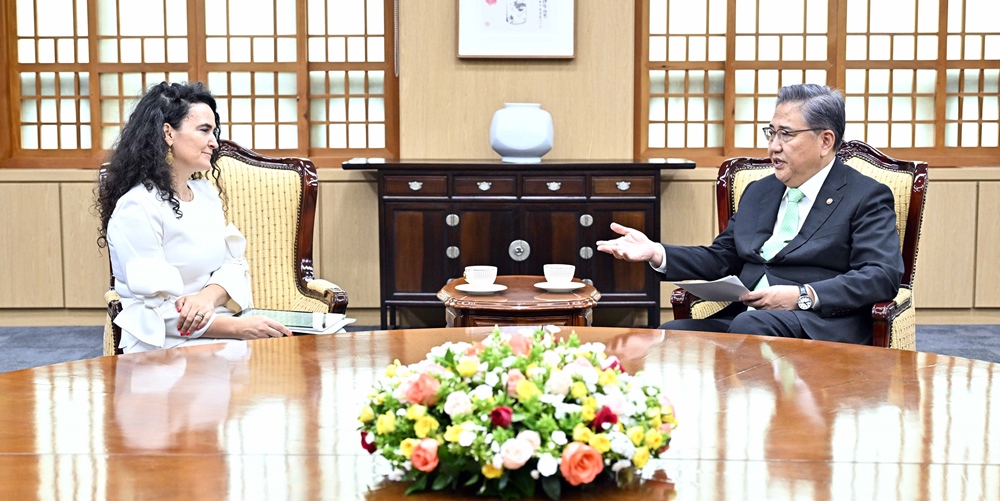 1. Minister of Foreign Affairs Park Jin met with new Executive Director of the Green Climate Fund (GCF) Mafalda Duarte at the Ministry of Foreign Affairs on September 13, during which the two sides exchanged views on the GCF's second replenishment, among others.
2. Foreign Minister Park extended congratulations to Executive Director Duarte on her election to lead the GCF, one of the organizations that play the most crucial role in the global climate regime. He added that the Korean government, as the host of the Secretariat of the GCF, will render active support to the organization so that it can further strengthen its role as the world's largest multilateral climate fund in support of developing countries.
° Executive Director Duarte, noting that this year marks the tenth anniversary of the launch of the GCF Secretariat, conveyed appreciation to the Korean government for its all-out support for the GCF Secretariat. She went on to ask for the Korean government's continued support for this vital organization, which plays a significant role in strengthening the global community's capacity to respond to climate change and restoring trust between developed and developing countries through its support for developing countries' efforts to adapt to and mitigate the impacts of climate change.
3. Foreign Minister Park, bringing attention to the unprecedented scale of natural disasters around the world triggered by climate change, stressed that it is important for the currently ongoing second replenishment effort of the GCF to be completed successfully to ensure the international community's better response to climate change.
° Foreign Minister Park stated that as announced by President Yoon Suk Yeol at the G20 Summit on September 9, the Korean government plans to contribute US$300 million to the GCF for its second replenishment, establishing itself as the largest contributor among countries that voluntarily provide climate finance to developing countries.
° In particular, he noted that Korea, as a global pivotal state, plans to offer assistance to countries vulnerable to climate change but facing obstacles in setting up their own climate action plan due to financial and infrastructure limitations. To do so, Korea will serve as a "green ladder" by building on its experience of transforming itself into a developed country from one of the poorest countries 70 years ago.
4. Executive Secretary Duarte expressed deep gratitude to the Korean government for its US$300 million pledge for the GCF's second replenishment, looking forward to its positive impact on the GCF's second replenishment process.