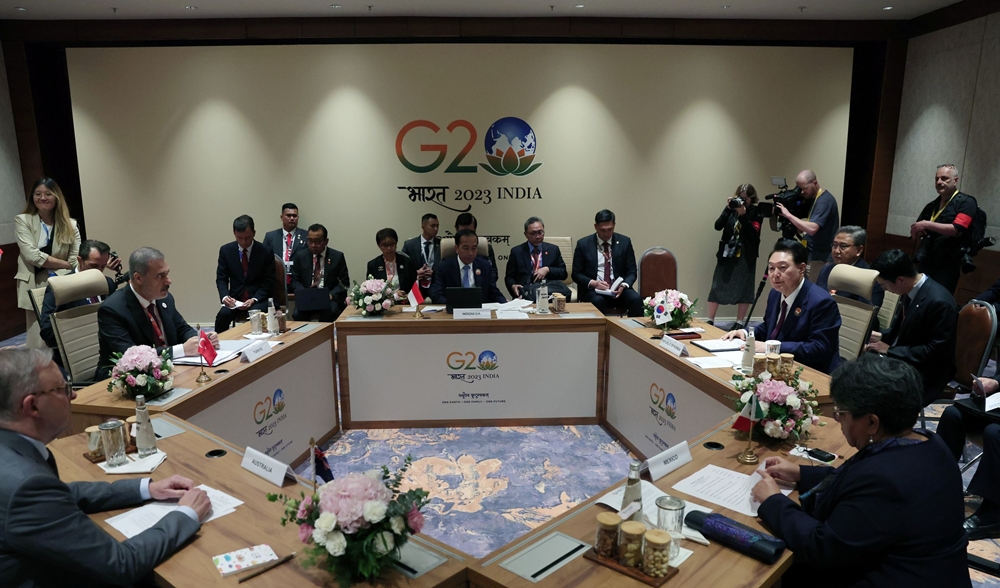 MIKTA LEADERS' GATHERING 2023
JOINT PRESS STATEMENT
We, the Leaders of MIKTA comprising Mexico, Indonesia, Republic of Korea, Türkiye and
Australia, gathered today on the sidelines of the G20 Summit in New Delhi to commemorate
the first decade of MIKTA's establishment and provide guidance for the priorities of our crossregional and innovative partnership.
We shared our deep concerns on the increasingly challenging global strategic environment due
to increasing division in the world and various challenges including climate change, rising food
insecurity, elevated energy prices, high inflation, debt vulnerability, extreme poverty,
increasing inequality, pandemic scarring, war in Ukraine and other multidimensional crises
that are endangering global stability, growth and prosperity.
We underlined that the world must overcome differences to effectively address such
challenges.
We recognised MIKTA's shared commitment to democracy, upholding international law and
promoting multilateralism and international cooperation.
Henceforth, we:
- Reaffirm our commitment to uphold international law and strengthen the multilateral
system, with the United Nations at its core, and defend all purposes and principles
enshrined in the Charter of the United Nations;
- Underscore MIKTA's role in building understanding and consensus, advancing
democracy and dialogue, striving to find pragmatic and creative solutions to regional and
global challenges, and defending the multilateral system and rules-based order;
- Will continue to serve as a cross-regional consultative forum to share perspectives, forge
mutual understanding, deepen bilateral ties, find common ground to strengthen our
cooperation, and engage in dialogue with other regions and mechanisms;
- Resolve to further deepen our coordination as MIKTA partners in relevant multilateral and
regional fora, strengthen our joint actions on global issues where we have shared interests,
and reinforce our constructive role internationally;
- Will work to enhance inter-regional cooperation, build bridges between developed and
developing countries, and advocate for those in vulnerable situations.
We task our Foreign Ministers to coordinate and follow-up on our commitments, and look
forward to an ever more effective MIKTA partnership in its second decade.
New Delhi, 9 September 2023