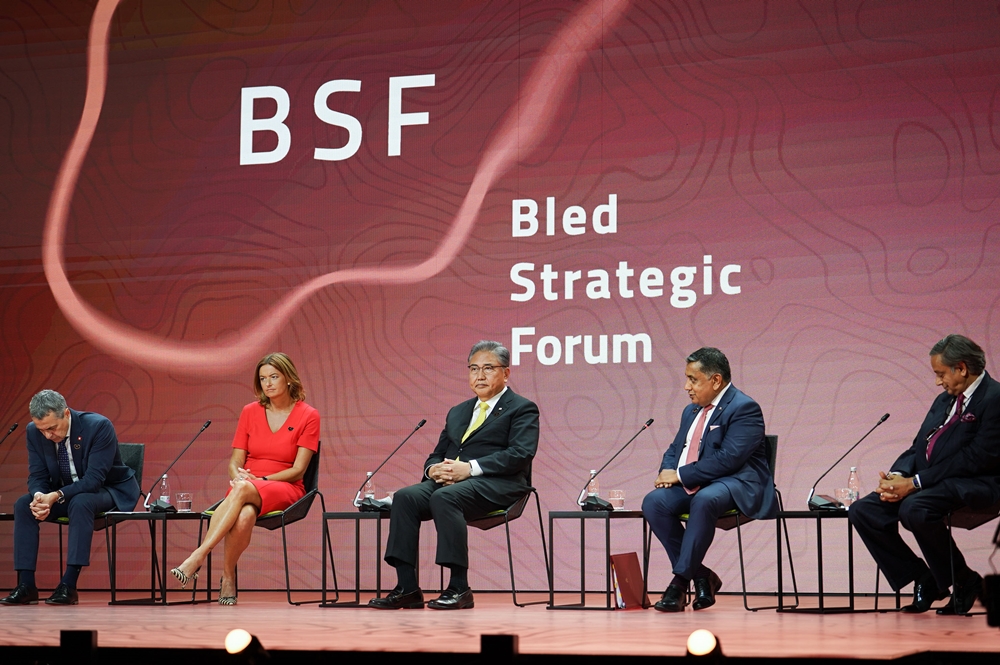 1. On August 28, Minister of Foreign Affairs Park Jin, at the invitation of Deputy Prime Minister and Minister of Foreign and European Affairs of Slovenia Tanja Fajon, attended the opening ceremony and the session on multilateralism of the Bled Strategic Forum 2023, which was hosted by the Ministry of Foreign and European Affairs and the Center for European Perspective of Slovenia.
2. Given that the ongoing war in Ukraine, a region very close to Central and Eastern Europe, is not only a sensitive issue in terms of security and national interests of the countries in the region but also a significant one for the Korean Peninsula and the Indo-Pacific, Foreign Minister Park, for the first time for a Korean Foreign Minister, attended the Forum in order to strengthen relations with Central and Eastern European countries lying on the front line of the Ukrainian war.
3. The Forum's session on multilateralism titled "Is There a Future for Multilateralism in the Global Grid of a Multipolar and Multi-Stakeholder World?" brought together seven panelists, including the foreign ministers of five countries including Korea, Slovenia, Switzerland and Canada, as well as vice minister-level officials of two countries.
4. In the session, Foreign Minister Park explained the outcome of the Korea-United States-Japan Trilateral Summit held at Camp David on August 18, Korea-China relations, and the situation on the Korean Peninsula, adding that Korea, as a non-permanent member of the United Nations Security Council next year, will steadfastly safeguard multilateralism at the UN in close cooperation with the U.S., Japan, Slovenia and other members of the UN Security Council.
5. Foreign Minister Park stressed that the Korea-United States-Japan Trilateral Summit at Camp David had helped firmly institutionalize trilateral cooperation, which carries significance not only for Northeast Asia and the Indo-Pacific but also in terms of building an order of the global community including Europe.
6. Foreign Minister added that a respect for international law, shared norms, and common values as well as a strong opposition to any unilateral attempts to change the status quo -- both part of the "Camp David Principles" -- is in line with "multilateralism," and stressed that Korea-U.S.-Japan cooperation is not conducted in a way that excludes any particular country.
7. In particular, Foreign Minister Park Jin shared with the participants the Korean government's basic position that Korea-U.S.-Japan cooperation and Korea-China friendship are not mutually incompatible; that it will foster a healthy and mature relationship with China on a foundation of mutual respect, mutual benefit and common interests; and that it will seek to hold a Korea-Japan-China summit within the year.
8. Foreign Minister Park stressed that through its recent, unprecedented level of provocations, the Democratic People's Republic of Korea (DPRK) is posing a considerable threat to peace and security in Northeast Asia and beyond, in response to which it is essential for the international community to take stern and united steps based on multilateralism.
9. Foreign Minister Park stated that as a non-permanent member of the UN Security Council next year, Korea will contribute substantively to peace and security of the international community, suggesting that Slovenia, which will also serve as a non-permanent member of the Security Council next year along with Korea, work closely together in that regard.