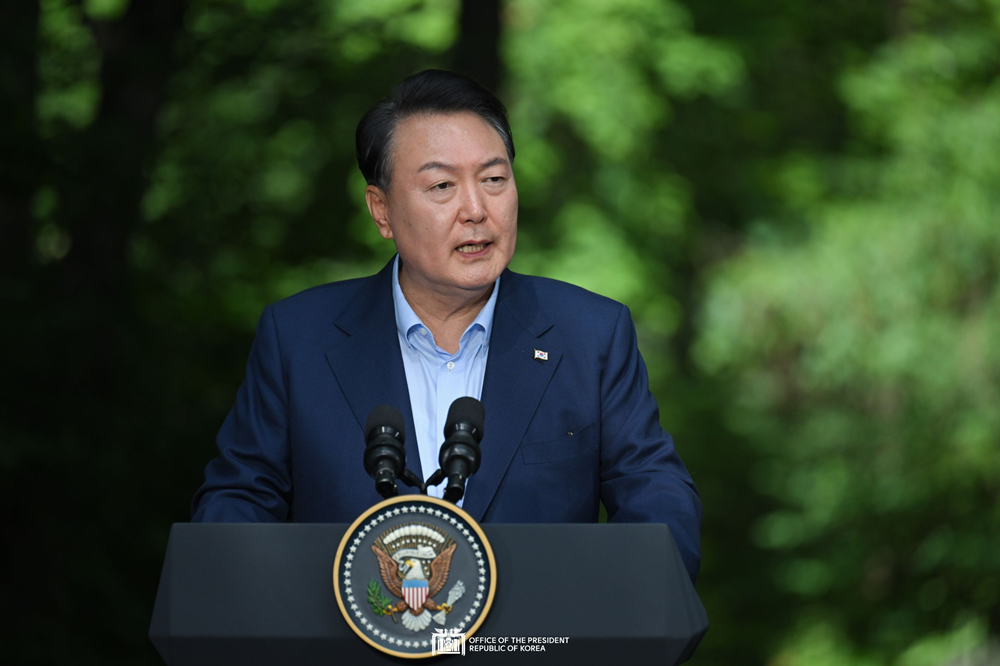 Joint Press Conference following the ROK-U.S.-Japan Summit at Camp David
Remarks by President Yoon Suk Yeol in Joint Press Conference following the Trilateral Leaders' Summit at Camp David
First of all, I'd like to thank President Biden for his warm hospitality. It is a great pleasure to visit Camp David along with Prime Minister Kishida. Camp David is a site that bears historical significance where important diplomatic decisions were made at critical junctures of modern history.
In order to respond to today's unprecedented polycrisis, the strong ties between our three countries, which are the most advanced liberal democracies in the region and major economies leading advanced technology and scientific innovation, are more important than ever.
From this moment on, Camp David will be remembered as a historic place where the Republic of Korea, the United States, and Japan proclaimed that we will bolster the rules-based international order and play key roles to enhance regional security and prosperity based on our shared values of freedom, human rights, and rule of law.
Today, we, the three leaders, held the very first standalone trilateral summit marking a new chapter in our trilateral cooperation.
Today, we have agreed on the Camp David Principles that will function as the enduring guidelines for our trilateral cooperation. In addition, we have developed the Spirit of Camp David, which is a document embodying the vision of our trilateral cooperation and ways to translate our will to cooperate into action.
First of all, to facilitate the stable development of our trilateral cooperation, we have built the institutional basis for the trilateral cooperation at multiple levels and sectors. In addition to making our trilateral summit regular, we have agreed to have our governments' personnel at all levels — including foreign ministers, defense ministers, and national security advisors — meet every year to closely coordinate our trilateral cooperation.
In particular, we, the three leaders, have agreed to establish a communication channel so we can swiftly coordinate and respond together in case an urgent issue occurs in the region.
Furthermore, to bolster our trilateral strategic cooperation in the Indo-Pacific, our three countries will establish the Trilateral Indo-Pacific Dialogue, which will discover new areas of cooperation. Also, along with the Economic Security Dialogue led by our three countries' NSCs, we have agreed to found a consultative body for development policy coordination and also build cooperation frameworks in various sectors including global health and women empowerment.
We have also decided to hold our ROK-U.S.-and Japan Global Leadership Youth Summit to strengthen ties between our future generations.
Second, we have agreed to step up our security cooperation to ensure our people's safety and peace in the region based on the foundation of institutionalized cooperation.
First of all, to this end, we have consulted on practical ways to cooperate, aimed at improving our joint response capabilities to North Korea's nuclear and missile threats, which have become more sophisticated than ever. The real-time sharing of DPRK missile warning data, which was agreed upon during the Phnom Penh summit last November, will be activated within this year. And this will make a significant progress in strengthening our three nations' capabilities to detect and track North Korea's missiles.
In countering the DPRK's nuclear and missile threats, we concurred the trilateral defense exercises were crucial. As such, annual plans will be established for the ROK-U.S.-Japan drills we committed to.
In the meantime, as North Korea funds its nuclear and missile programs by exploiting labor and human rights, efforts to monitor and stem such activities will be redoubled. To deter the DPRK's illicit funding activities, a new trilateral working group on DPRK cyber activities will be established.
Moreover, Korea, the U.S., and Japan, in their pursuit of Indo-Pacific strategies, oppose any unilateral attempts to change the status quo by force. Respect for sovereignty, territorial integrity, the peaceful settlement of disputes, among others, undergird a rules-based international order that we resolve to safeguard by intensifying our collaboration.
As part of such endeavors, our three nations agreed to support ASEAN and Pacific Island countries with their maritime security capacity-building efforts.
Furthermore, to help Ukrainians regain freedom and pursue reconstruction, we are determined to increase our three-way coordination.
Next, we, the three leaders, discussed how to work together to promote shared prosperity and future growth.
First of all, in the field of economic security directly linked to our national economies of the three countries, we will work to expand our strategic partnership.
To ensure global supply chain resilience and energy security, we pledged to bolster our trilateral cooperation. To manage global supply chain risks, an early warning system will be established together.
In addition, we decided to broaden our collaboration in the field of cutting-edge technologies to secure future growth engines. Specifically, in AI, quantum, bio, and next-generation telecommunications and space sectors, cooperation among our three countries will deliver powerful synergies.
Korea, the U.S., and Japan committed to have their national laboratories expand joint R&D and personnel exchanges, providing a cornerstone for the three countries' leadership in science and technology innovation.
Moreover, for the sake of shared prosperity in the Asia Pacific, in line with the needs of ASEAN and Pacific Island countries, effective support measures will be sought and implemented collectively.
Today, we, the three leaders, affirmed our commitment to the trilateral partnership towards a new era and possibilities thereof.
Grounded in the core values of freedom, human rights, and the rule of law, a strong alliance of values among Korea, the U.S., and Japan will help build a world that's more peaceful and prosperous by serving as a sturdy foundation.
Mr. President, I thank you once again for your hospitality. Next time, I hope that we will be reunited in the Republic of Korea.
Thank you.