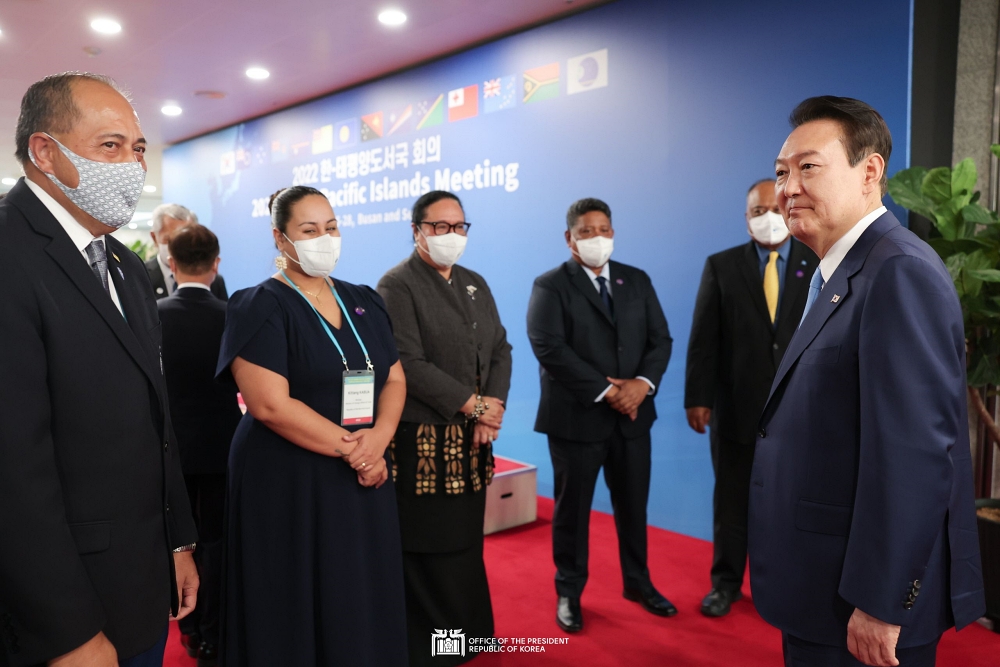 President Yoon Suk Yeol will host the inaugural Korea-Pacific Islands Summit from May 29-30 in Seoul. He is shown here on Oct. 27, 2022, greeting foreign ministers from Pacific island nations attending last year's Korea-Pacific Islands Foreign Ministers' Meeting at the Office of the President in Seoul. (Office of the President)
President Yoon Suk Yeol will host the inaugural Korea-Pacific Islands Summit in Seoul from May 29-30.
Presidential spokesperson Lee Do Woon on May 25 announced the summit's schedule and list of attendees in a news release. The event will be the first multilateral offline summit hosted by the country since President Yoon took office.
President Yoon invited the leaders of the 18 member countries of the Pacific Islands Forum (PIF) and PIF Secretary General Henry Puna, along with their spouses.
The 18 PIF member states comprise the 14 Pacific island nations of the Cook Islands, Federated States of Micronesia, Fiji, Kiribati, Marshall Islands, Nauru, Niue, Palau, Papua New Guinea, Samoa, Solomon Islands, Tonga, Tuvalu and Vanuatu; the French territories of French Polynesia and New Caledonia; Australia; and New Zealand.
The leaders will attend the summit in Seoul and an official dinner hosted by President Yoon and first lady Kim Keon Hee on May 29.
Under the theme "Navigating toward Co-Prosperity: Strengthening Cooperation with the Blue Pacific," the summit on Monday afternoon will comprise two sessions. The first to be chaired by President Yoon will review cooperation between Korea and Pacific island nations and discuss the direction of future collaboration.
Chaired by Cook Islands Prime Minister Mark Brown, the second session will discuss the state of the region and international cooperation measures. The Cook Islands are the PIF's chair country this year.
President Yoon on Sunday afternoon and Monday morning will hold separate bilateral summits with the leaders of about 10 countries.
The leaders will visit Busan to attend side events on May 30.
Korea is the sixth country to separately host a summit with Pacific island nations, following the U.S., Japan, France, China and India. The U.S. held its first meeting last year.
Spokesperson Lee said, "Hosting the Korea-Pacific Islands Summit will mark the start of the implementation of the Indo-Pacific strategy announced by our government last year."
"Through the Indo-Pacific strategy, our government recognized the climate crisis in Pacific island nations as a common task for the international community to respond jointly to and stipulated expanded engagement of and contributions to these countries," he added.
"By expressing our willingness to actively contribute to Pacific island nations at this summit, this will provide an opportunity to expand our diplomatic horizons to the Pacific and boost our diplomacy of responsible contributions."
korea.net