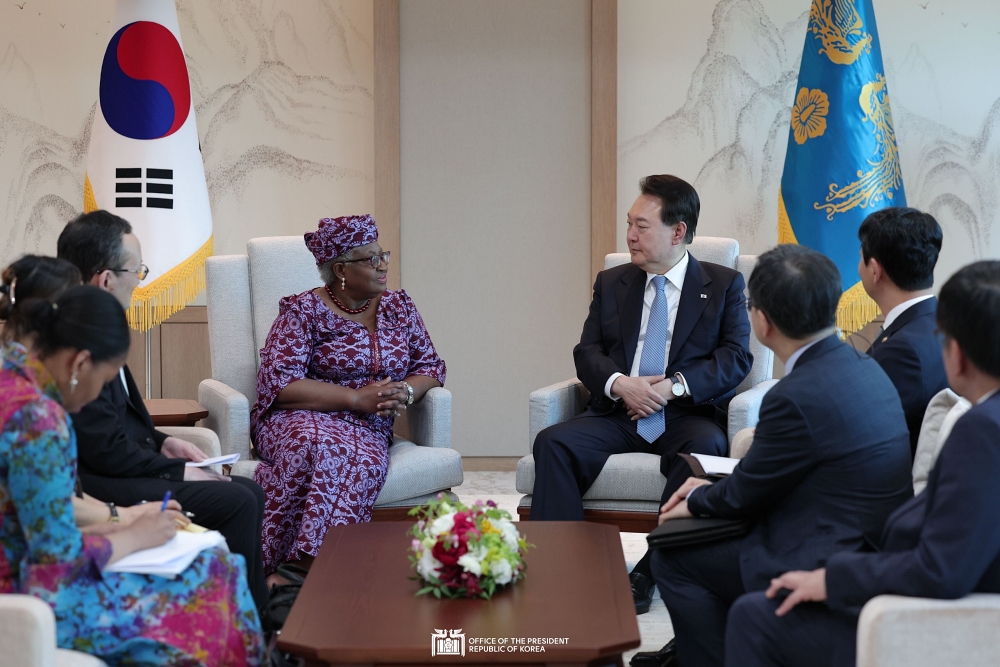 President Yoon Suk Yeol (right) on May 23 hosts talks with World Trade Organization Director-General Ngozi Okonjo-Iweala at the office of the President in Seoul.
President Yoon Suk Yeol on May 23 hosted talks with World Trade Organization (WTO) Director-General Ngozi Okonjo-Iweala at the Office of the President in Seoul.
"As a country that grew through trade, our nation has benefited most from the General Agreement on Tariffs and Trade and free trade system represented by the WTO," presidential spokesperson Lee Do Woon quoted President Yoon as saying in a news release.
"In line with the changed trade environment, let's work together with the WTO to set new trade norms in areas like digital trade."
Mentioning that global gross domestic product could decline 5% over the long term, the director-general said she visited a Korean company and met young digital workers, noting that she saw impressive development in the digital sector.
The WTO is planning a program to invite youth to the WTO from organizations or governments of many countries to study at and experience the WTO for about two years, and will consult with Korea's trade minister so that the nation's talented youth can also join the program, she added.
The WTO chief also urged President Yoon to do more to get the U.S. to play a more active role in WTO reform and for quick ratification of the WTO agreement on fisheries subsidies. On diversifying supply chains, she also asked for more attention to Africa.
In response, President Yoon said, "Since taking office, I've considered diplomacy with Africa very important, and next year, we plan to host a Korea-Africa special summit in Seoul," adding, "In the future, we will invest more in Africa's development."
"The United Nations in politics and the WTO in economy and trade -- these two tracks have led global peace and prosperity," he said. "Disputes among countries need to be resolved within the WTO framework based on rule of law so that related industries can develop through stable investment with predictability."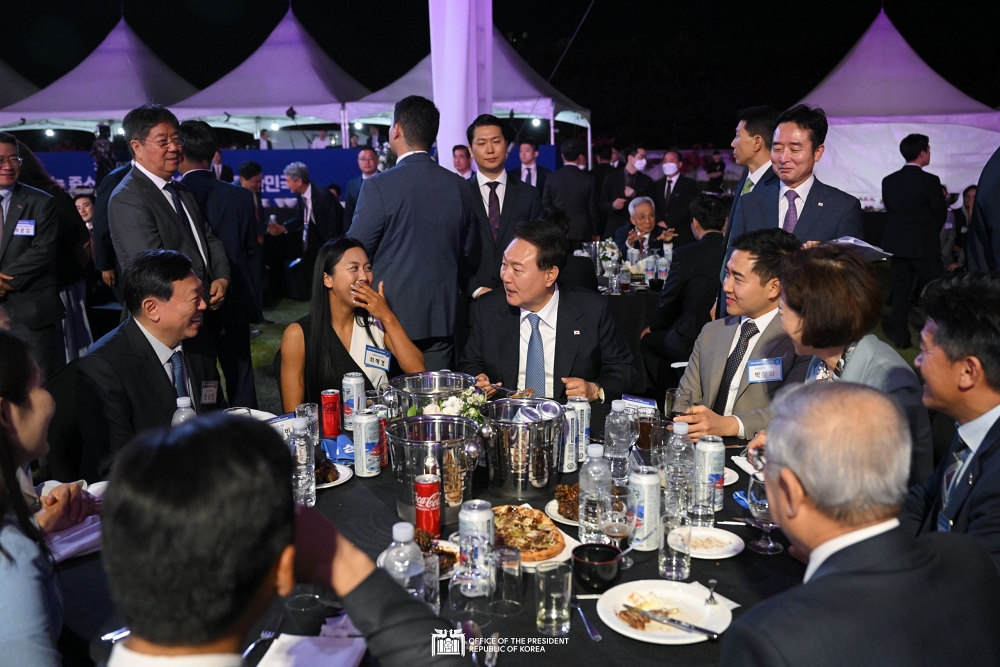 President Yoon Suk Yeol (center) on the evening of May 23 hosts business leaders at a convention for small and medium businesses at the grass garden of the Office of the President in Seoul attended by about 500 people.
In the evening, President Yoon attended the 2023 Republic of Korea Small and Medium Business Convention (unofficial translation), which attracted about 500 small and mid-size entrepreneurs at the grass garden of the Office of the President.
"To respond to the recent segmentation of supply chains and bloc-oriented commerce and trade environment, the government has formed one team with businesses to actively support their entry into overseas markets and exports, and Korean companies need to be armed with creativity and innovation to more boldly jump into the world market," he said.
"Companies and startups, as well as creativity and the spirit of challenge, are what create quality jobs, not direct government financing," he added. "For this, the government is pursuing a private sector-led economy and supporting fair and efficient market operations."
korea.net