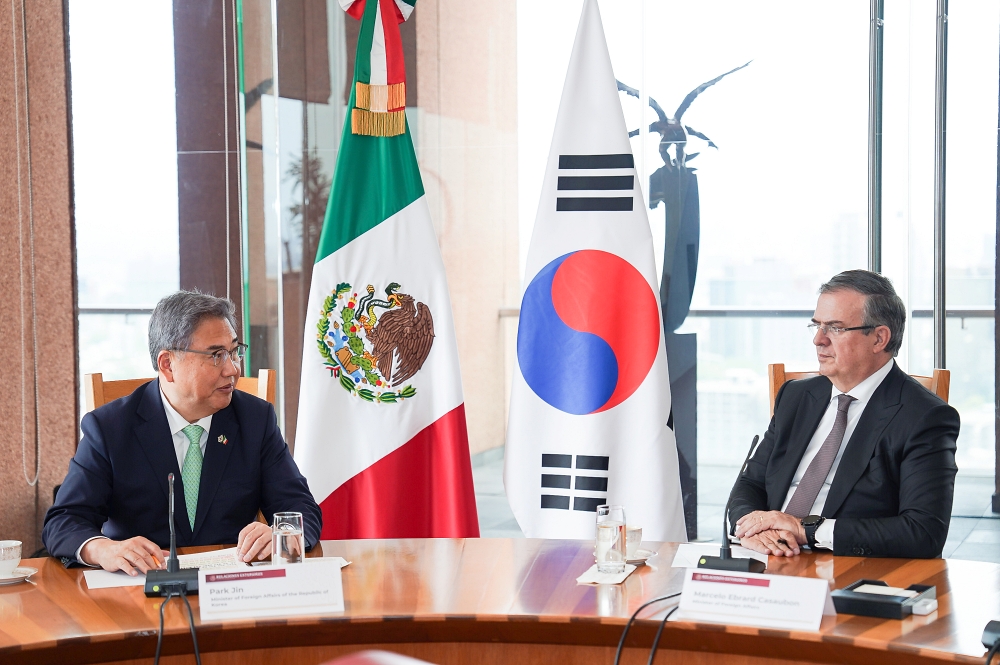 1. Minister of Foreign Affairs Park Jin visited Mexico from May 8 to 10 and had meetings with the Secretary of Foreign Relations, the Secretary of Economy, and the Secretary of Energy -- the heads of the core government agencies of Mexico in terms of Korea-Mexico relations. Mexico is Korea's largest trading partner in Latin America where some 430 Korean companies are operating. As such, the country is serving as a gateway to North and Latin American markets.
2. In the bilateral meeting with Mexico's Foreign Secretary Marcelo Ebrard on the morning of May 9, the two sides discussed a new vision for cooperation and ways to bolster substantive cooperation based on the past 60 years of cooperation.
3. Foreign Minister Park called Mexico, with which Korea forged strategic partnership in 2005, the first among Latin American countries, Korea's core partner for cooperation that shares universal values such as freedom, democracy, human rights and the rule of law. On that note, he voiced hope that his visit would serve as an opportunity to further deepen the relations between the two countries.
4. Secretary Ebrard welcomed Foreign Minister Park's visit to Mexico that followed his visit to Korea in July last year; brought attention to Mexican people's great affection for and interest in K-pop and other forms of Korean culture; and expressed hope for a further increase in people-to-people exchanges between the people of the two countries.
5. Foreign Minister Park, highlighting the importance of the conclusion of a Korea-Mexico free trade agreement (FTA) for a stronger strategic cooperative relationship between the two countries, asked for Secretary Ebrard's support for the resumption of FTA negotiations.
6. Secretary Ebrard stressed that Mexico has a lot to learn from Korea, including in education, innovation and work motivation, and asked Korean companies to make more investments and cooperate on state-of-the-art technologies with Mexico, a core country in terms of North American supply chains. He went on to convey hope that Korea and Mexico would continue to promote cooperation in areas such as aerospace, public health and development cooperation.
7. Also during the morning of May 9, Foreign Minister Park met with Secretary of Economy Raquel Buenrostro, during which the two sides reviewed key bilateral issues in the sectors of economy and trade. Foreign Minister Park particularly relayed the Korean government's commitment to resuming Korea-Mexico FTA negotiations.
8. Foreign Minister Park stressed that the Korea-Mexico FTA will serve as an institutional framework for cooperation in the era of restructured supply chains and economic security, and looked forward to a swift conclusion of the revised "Agreement between the Government of the Republic of Korea and the Government of the United Mexican States for the Promotion and Reciprocal Protection of Investments." Secretary Buenrostro responded that a review will be conducted on the progress in the FTA negotiations and that support will be extended to Korean companies on their bids to build and increase their presence in Mexico.
9. On the afternoon of May 9, Foreign Minister Park met with Secretary of Energy Rocio Nahle to explain Korean companies' active work in the energy and infrastructure sectors of Mexico, including Samsung Engineering's participation in the Olmeca refinery construction project, and voiced hope for Korean companies' expanded presence in Mexico.
10. Secretary Nahle, taking note of outstanding technologies and business capabilities of Korean companies taking part in refinery plant and solar energy generation projects in Mexico, looked forward to an increase in cooperation.
11. By building on Foreign Minister Park's visit to Mexico, which came around the first anniversary of the inauguration of the Yoon Suk Yeol government, the Ministry of Foreign Affairs will double its efforts to further expand cooperative networks with Latin American countries as a global pivotal state and to boost sales diplomacy in support of Korean companies' bids to build presence in Latin America.