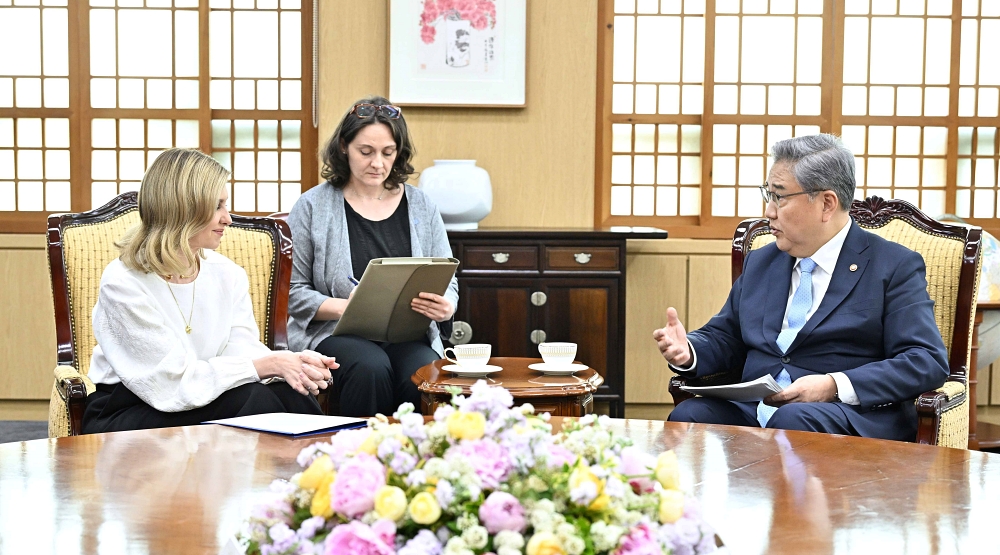 1. On May 17, Minister of Foreign Affairs Park Jin met with First Lady of Ukraine Olena Zelenska, who was on a visit to Korea for the 14th Asian Leadership Conference hosted by The Chosunilbo newspaper. In the meeting, the two sides discussed the Ukrainian situation, humanitarian assistance to Ukraine, and ways for Korea and the country to work together in the reconstruction of the latter.
2. Foreign Minister Park conveyed the Korean government's support for and solidarity with the country and offered condolences to the families of those killed in the war and the rest of the Ukrainian people, saying that Korea, as a country that experienced a horrendous war, sympathizes with the suffering and plight of the Ukrainian people.
3. First Lady Zelenska extended appreciation to the Korean government for its solidarity, support and humanitarian assistance. Underscoring Ukraine's need for humanitarian assistance amid the hardships triggered by the war, she asked for the Korean government's attention and cooperation. She went on to express hope for provision of equipment, such as ambulances -- ordinary and armored -- in urgent humanitarian assistance for use on battlefields.
4. Foreign Minister Park iterated the Korean government's position that, having pledged US$130 million in humanitarian assistance to Ukraine in addition to US$1 million provided last year, it will respond actively to the Ukrainian people's humanitarian needs in the face of the crisis caused by the war.
5. Foreign Minister Park, highlighting Korea's experience of rebuilding itself and achieving economic growth from the ashes of the Korean War, noted that Korea will contribute actively to the reconstruction of Ukraine through development cooperation between the two countries.
6. The two sides agreed to continue close cooperation for a swift restoration of peace and daily lives in Ukraine.