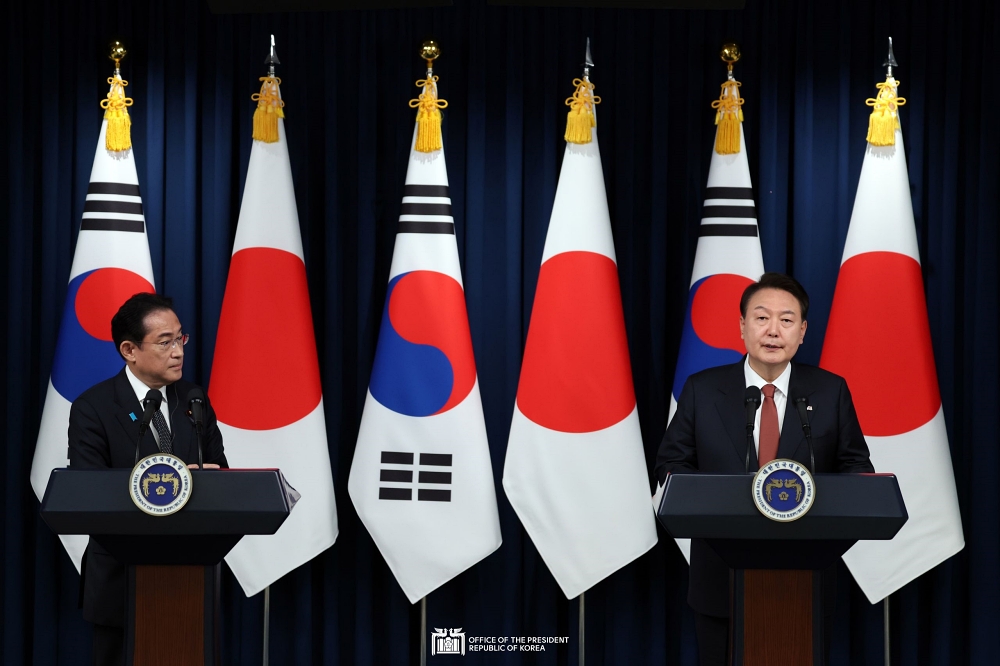 President Yoon Suk Yeol (right) and Japanese Prime Minister Kishida Fumio on May 7 hold a joint news conference at the presidential office in Seoul's Yongsan-gu.
Japanese Prime Minister Kishida Fumio on May 7 said at his summit with President Yoon Suk Yeol in Seoul, "My heart hurts as many people suffered such difficulty and grief under the harsh environment at the time," referring to Koreans forced laborer during Japanese colonial rule of the Korean Peninsula (1910-45).
The two leaders held a joint news conference that day at the presidential office in Seoul. "As Japan's prime minister, I believe my duty is to continue the efforts of our predecessors who overcame difficult times and cooperate with President Yoon and others for the future," Prime Minister Kishida said.
"We agreed once again that Korea and Japan, two countries that share universal values, must closely cooperate in the process of responding to national security, economy and global agenda," President Yoon said. "We as the two leaders confirmed that improvement in Korea-Japan relations brings huge benefits to the people of both countries and agreed to raise bilateral relations to a higher level."
"We welcomed full-fledged realization of cooperation in national security and economy such as national security dialogue among diplomatic and national security officials agreed on at our summit in March, economic security talks between national security councils and finance ministers' meetings," he added.
"We confirmed that the procedure of reinstating the whitelist, (Korea's removal from) which was a major unfriendly measure between both nations, is being faithfully implemented."
On bilateral cooperation, the president added, "We agreed that close communication and consultation among the leaders of Korea, the U.S. and Japan are pivotal in a situation where trilateral cooperation by the three countries is critical with the Group of Seven (G7) summit coming up."
Regarding the Indo-Pacific region, the president said, "We agreed to closely cooperate and communicate in the process of pushing ahead with Korea's 'Strategy for a Free, Peaceful and Prosperous Indo-Pacific Region' and Japan's 'Free and Open Indo-Pacific.'"
Both leaders also agreed to dispatch an inspection team of Korean experts to check on-site water contaminated by radioactivity from the Fukushima nuclear reactor in Japan. For the G7 summit slated for May 19-21 in Hiroshima, Japan, the two will visit Hiroshima Peace Memorial and pay tribute at the memorial built for Korean victims of the nuclear bombing.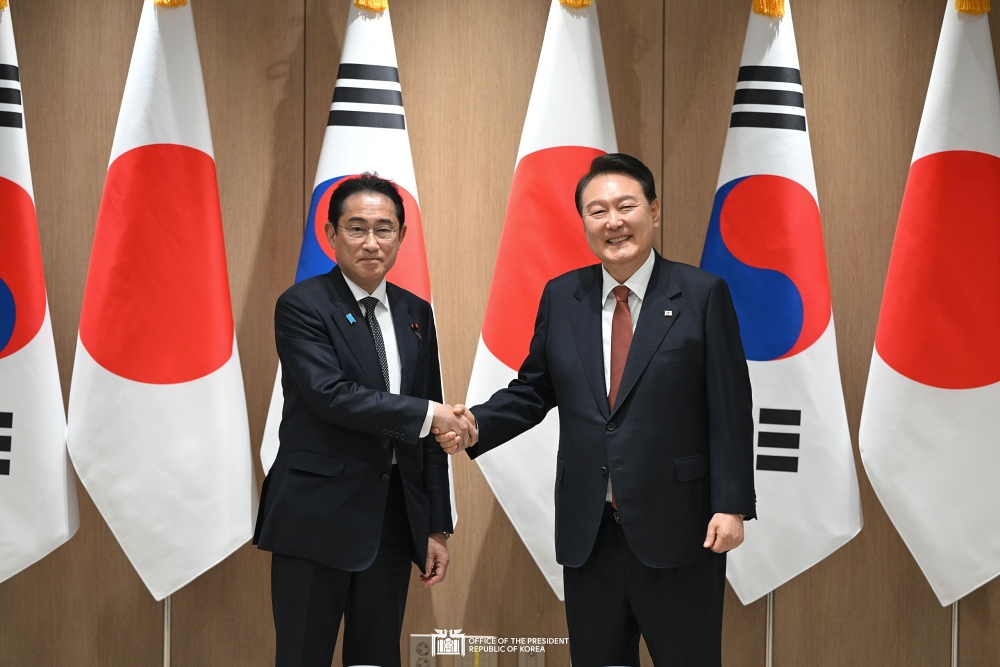 President Yoon Suk Yeol (right) and Japanese Prime Minister Kishida Fumio on May 7 shake hands at their extended summit held at the presidential office in Seoul's Yongsan-gu.
At the bilateral extended summit held before the joint news conference, President Yoon and Prime Minister Kishida congratulated the resumption of "shuttle diplomacy," or the regular exchange of visits by the leaders of the two countries, for the first time in 12 years and agreed on the need for continuous development of bilateral relations.
"It took 12 years to restore shuttle diplomacy but it took less than two months for both of us to visit each other," President Yoon said at the extended summit. "This confirms how the newly started relationship between Korea and Japan is moving forward quickly."
"Given the situation in which liberal democracy, the cornerstone of peace and prosperity for the international community, is under threat, Korea and Japan, which share universal values, must cooperate through closer solidarity in the international community."
"In our summit in March, we agreed to boost and reestablish mid-to long-term bilateral ties and dispel fears over various issues and strengthen dialogue and cooperation," Prime Minister Kishida said. "In just under two months, various dialogues have started with dynamic movement," he added.
In the afternoon, both leaders had their summits and joint press conference for a combined 102 minutes at the presidential office, or 52 days after their first meeting on March 16 in Tokyo.
korea.net