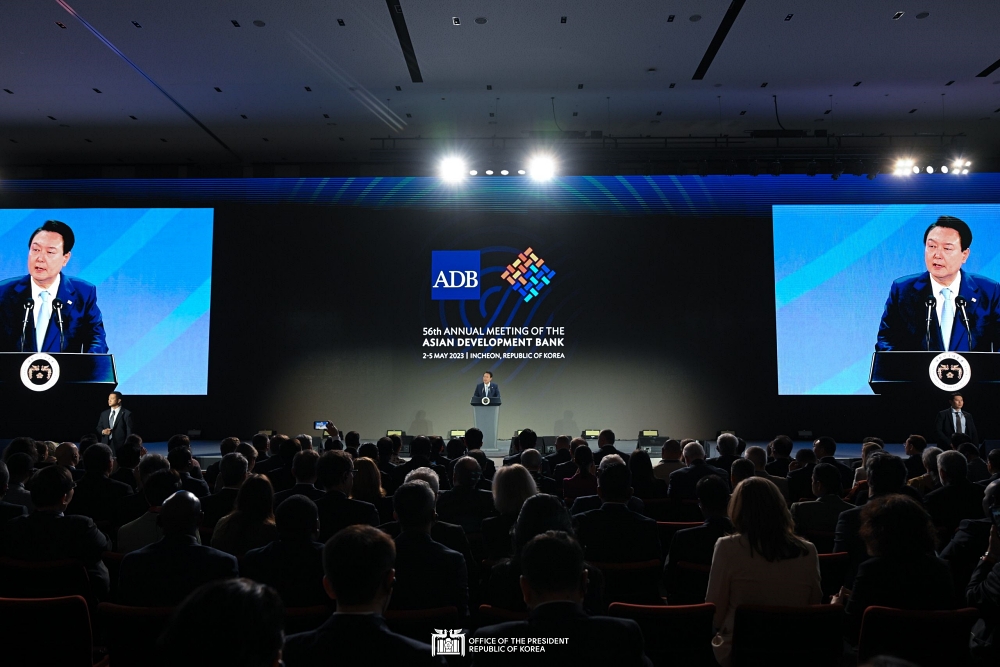 President Yoon Suk Yeol on May 3 speaks at the opening ceremony of the 56th annual meeting of the Asian Development Bank at Songdo Convensia of Songdo International Business District in Incheon. (Office of the President)
President Yoon Suk Yeol on May 3 said, "Korea along with ADB(Asian Development Bank) member countries will walk the path of solidarity beyond Asia and the Indo-Pacific toward global co-prosperity."
He said this at the opening ceremony of the ADB's 56th annual meeting at Songdo Convensia of Songdo International Business District (IBD) in Incheon, according to presidential spokesperson Lee Do Woon in a news release.
This is Korea's third hosting of the conference, following the first in 1970 and second in 2004.
In his congratulatory speech at the ceremony, President Yoon said, "New challenges such as fragmentation of global supply chains, alleviation of the digital divide caused by digital transformation and response to climate change require strong solidarity and partnership among countries."
"On the occasion of this meeting, the Korean government and the ADB will jointly set up a climate technology hub as a platform through which governments and private companies of each country share technology, knowledge and networks and resolve problems together with the public and private sectors."
The hub is slated for launch in Seoul next year as a network base for the climate sector connecting climate experts from the public and private sectors worldwide.
On the same day in Songdo IBD, Deputy Prime Minister and Minister of Economy and Finance Choo Kyung-ho and ADB President Masatsugu Asakawa signed a memorandum of understanding on the hub's establishment.
Before the opening ceremony, President Yoon held talks with Japanese Minister of Finance Shunichi Suzuki, whose nation is co-chair of ASEAN Plus Three, Indonesian Minister of Finance Sri Mulyani Indrawati, Indian Minister of Finance Nirmala Sitharaman, whose country co-chairs the Group of 20 (G20) economies this year, and ADB President Asakawa.
President Yoon urged the finance ministers of the chair countries to display leadership to ensure meaningful results in cooperation at the ASEAN Plus Three and G20 summits both slated for September.
He also asked President Asakawa, "Please pay attention to talented Korean youth so that they have more opportunities to work at the ADB."
Mentioning a cultural event scheduled at a dinner that day, President Asakawa told President Yoon that he "expected a performance" given the latter's singing talent.
During his state visit to the U.S. on April 26, President Yoon drew huge cheers and applause for singing the 1970s hit "American Pie" at a state dinner hosted by the White House in Washington.
korea.net