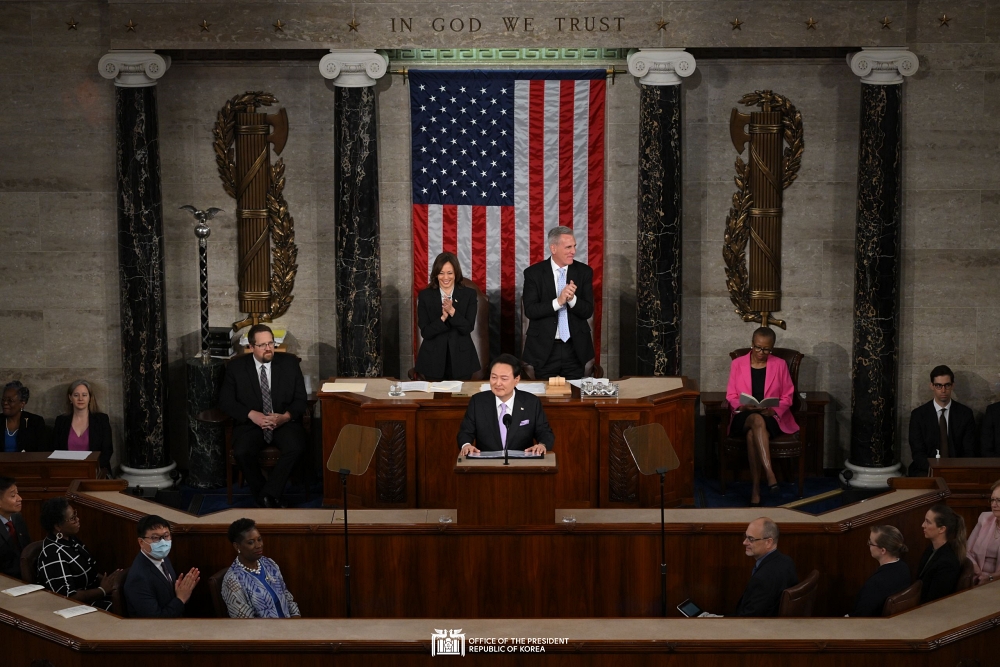 President Yoon Suk Yeol (center in second row) on April 27 gives a speech to a joint session of the U.S. Congress at Capitol Hill in Washington.
President Yoon Suk Yeol on April 27 said, "Together with the U.S., Korea will play the role as a 'compass for freedom.' It will safeguard and broaden the freedom of citizens of the world."
In his speech to a joint session of the U.S. Congress at Capitol Hill in Washington, he said, "Korea, with the U.S., will march toward the future."
Titled "Alliance of Freedom, Alliance in Action," the president gave his 44-minute address in English.
He was the first Korean head of state to speak to Congress in 10 years since Park Geun-hye in May 2013.
President Yoon began his speech by saying, "I stand before that nation with the conviction of freedom, belief in the Alliance, and resolve to open a new future."
"Our Alliance was forged 70 years ago to defend Korea's freedom. The Alliance has now become a global alliance that safeguards freedom and peace around the world. Korea will fulfill its responsibilities. It will play its part that matches its economic capacity."
Mentioning the alliance's omnidirectional upgrade as a result of the bilateral summit, he added "Together, we will lead in innovation beyond security and foreign policy. We will work closely on artificial intelligence, quantum technology, bioscience, and Open RAN."
"Our partnership in the cutting-edge semiconductor industry will contribute to establishing stable and resilient supply chains. It will also address economic uncertainties," the president said. "Together, we will open another new successful chapter. We will explore new frontiers in outer space and cyberspace."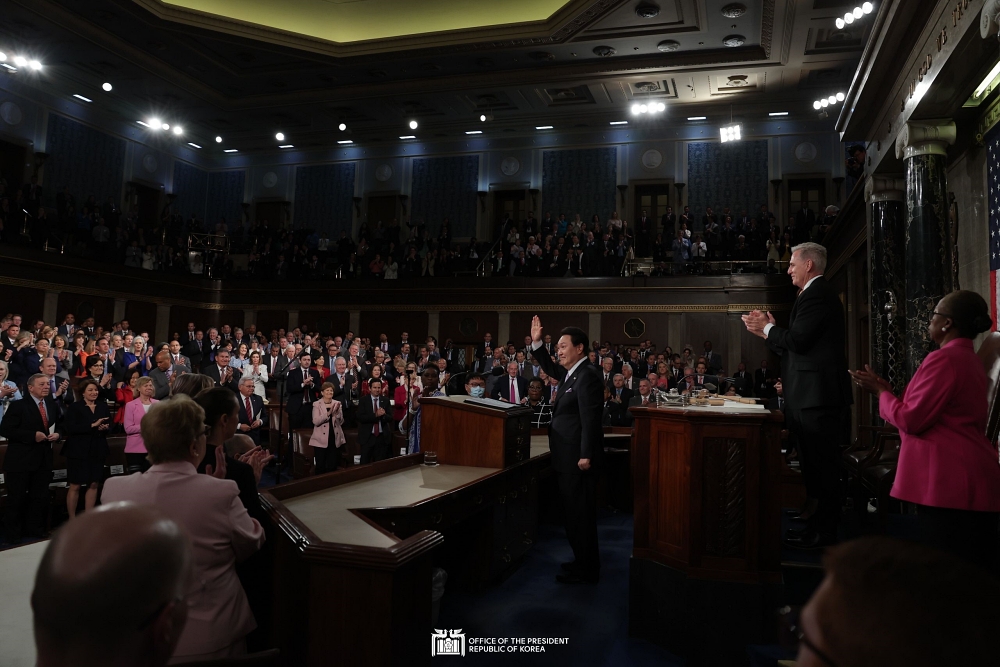 President Yoon Suk Yeol on April 27 receives a standing ovation after entering the House Floor of Congress to deliver his speech at Capitol Hill in Washington.
President Yoon also mentioned North Korea's nuclear issue.
"The difference is stark between Seoul that chose freedom and democracy and Pyongyang that chose dictatorship and communism," he said. "North Korea's nuclear program and missile provocations pose a serious threat to the peace on the Korean Peninsula and beyond."
The president said, "To deter its reckless behavior, the alliance must stand united with determination." Mentioning the agreement between both leaders to strengthen the U.S. extended deterrence, he added, "Along with close Korea-U.S. coordination, we need to speed up Korea-U.S.-Japan trilateral security cooperation to counter increasing North Korean nuclear threats."
On the war on Ukraine, President Yoon said, "The war against Ukraine is a violation of international law," adding, "It is an attempt to unilaterally change the status quo with force."
"Korea strongly condemns the unprovoked armed attack against Ukraine."
"Our Alliance is an alliance of universal values. Freedom, human rights, and democracy are the very foundations of our bonds," he added. "We will build the world of tomorrow that opens endless opportunities for our future generations. I look forward to everyone being on board for our new journey together."
Approximately 500 representatives and senators attended the session for President Yoon's speech.
The Office of the President said the president during his speech received 60 rounds of applause, including 26 standing ovations.
Vice President Kamala Harris, who is concurrently president of the Senate, and Speaker of the House Kevin McCarthy (Republican-California) also applauded President Yoon from behind the podium.
korea.net