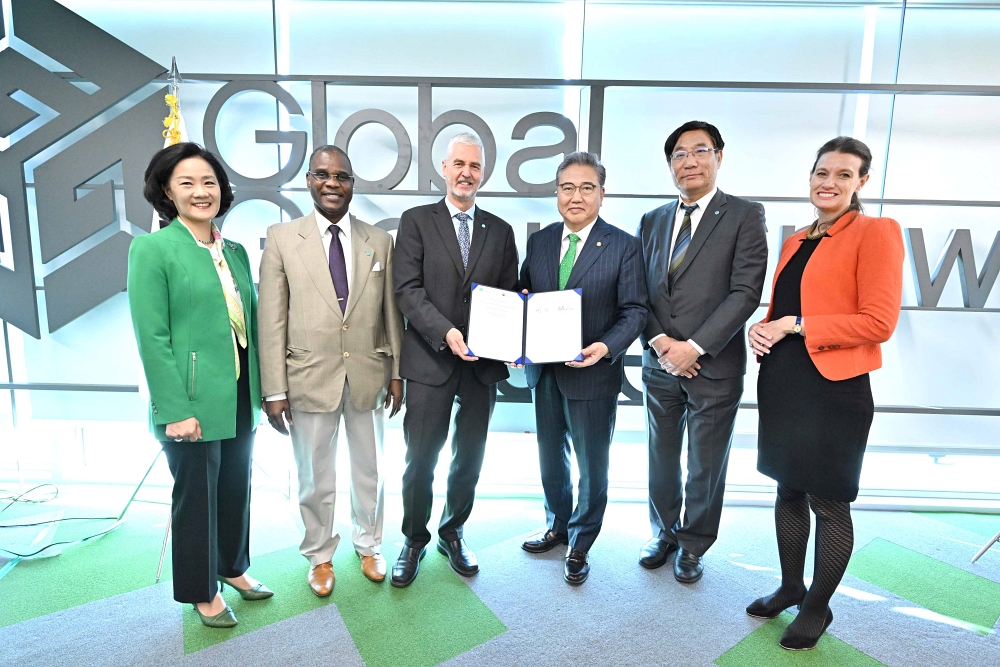 1. Minister of Foreign Affairs Park Jin visited the Global Green Growth Institute (GGGI) in Seoul on April 19. On the occasion of this visit, Minister Park signed a Memorandum of Understanding (MOU) on funding between the Ministry of Foreign Affairs and GGGI and encouraged GGGI's Director-General Dr. Rijsberman and staff members.
※ GGGI was established in the form of a Korean NGO in June 2010 and transitioned into an international organization with the entry into force of the Establishment Agreement. Its main role is to support developing states in addressing green growth and climate change. (The headquarters is located in Jeongdong, Seoul)
- GGGI has currently grown into an organization with 45 members since it started with 18 members in 2012.
2. Minister Park appreciated that GGGI, established by the Korean government and developed into an international organization, has successfully evolved into a global organization that supports the low-carbon green growth of developing countries.
ㅇ Minister Park stressed that this MOU renewal, which increases Korea's core funding for GGGI from USD 10 million to 12 million, means that Korea, as a Global Pivotal State, is strengthening its contribution to addressing climate change and green energy transitions, which are the biggest issues of the international community.
3. In addition, Minister Park expressed Korea's intention to continue supporting GGGI's efforts, emphasizing President Yoon Suk Yeol's statement that the Korean government would support the low-carbon energy transition of developing countries through the expansion of green ODA and make efforts to share innovative green technologies with all mankind.
4. In response, GGGI's Director-General Frank Rijsberman expressed gratitude for the active support of the Republic of Korea towards GGGI. He said, "GGGI will continue working with the Ministry of Foreign Affairs to actively promote policy advice, implementation support for low-carbon green growth in developing countries and expand green investments."
5. Mentioning that this is the first time for a Foreign Minister to visit the GGGI headquarters since its transformation into an international organization in 2012, Minister Park awarded a Certificate of Merit to Feelgeun Song, Senior Specialist of GGGI who joined the organization in 2012, in recognition of the fulfillment of Mr. Song's duties and outstanding contribution to GGGI's growth and also appreciated other Korean GGGI staff members for their activities in GGGI.