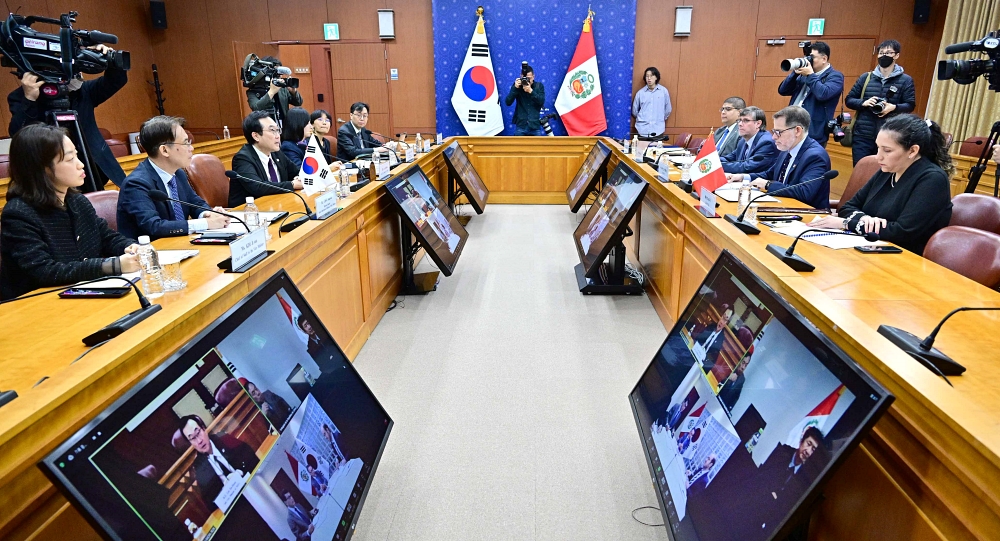 Vice Minister of Foreign Affairs Lee Dohoon held the 7th meeting of the Korea-Peru High-level Policy Consultations with his Peruvian counterpart Ignacio Higueras, who is on a visit to Korea on the occasion of the 60th anniversary of the establishment of diplomatic relations between Korea and Peru, at the Ministry of Foreign Affairs in Seoul on April 18.
The two sides had extensive discussions on issues of mutual interest, including political affairs, substantial cooperation, cooperation on the international stage, and the situations on the Korean Peninsula and in Latin America.
The two sides shared the view that since the establishment of diplomatic relations in 1963, the two countries have further developed their friendly and cooperative relations, including through the entry into force of the Korea-Peru FTA in 2011 and the establishment of the Comprehensive Strategic Partnership in 2012. They also agreed to further strengthen the bilateral Comprehensive Strategic Partnership by expanding cooperation in a range of areas, including infrastructure, the defense industry, and science and technology.
In this context, the two sides held the signing ceremony of the Korea-Peru Agreement for Air Services between and beyond their Respective Territories on the same day.
In addition, with this year marking the 60th anniversary of the establishment of diplomatic relations, the two sides agreed to enhance bilateral exchanges and cooperation through various commemorative events as well as high-level exchanges, and to continue cooperation for Korea to host the World Expo 2030 Busan.
This Policy Consultations, held four years after the 6th one in Peru in 2019, served as an opportunity for the two countries to resume high-level exchanges and consultations.