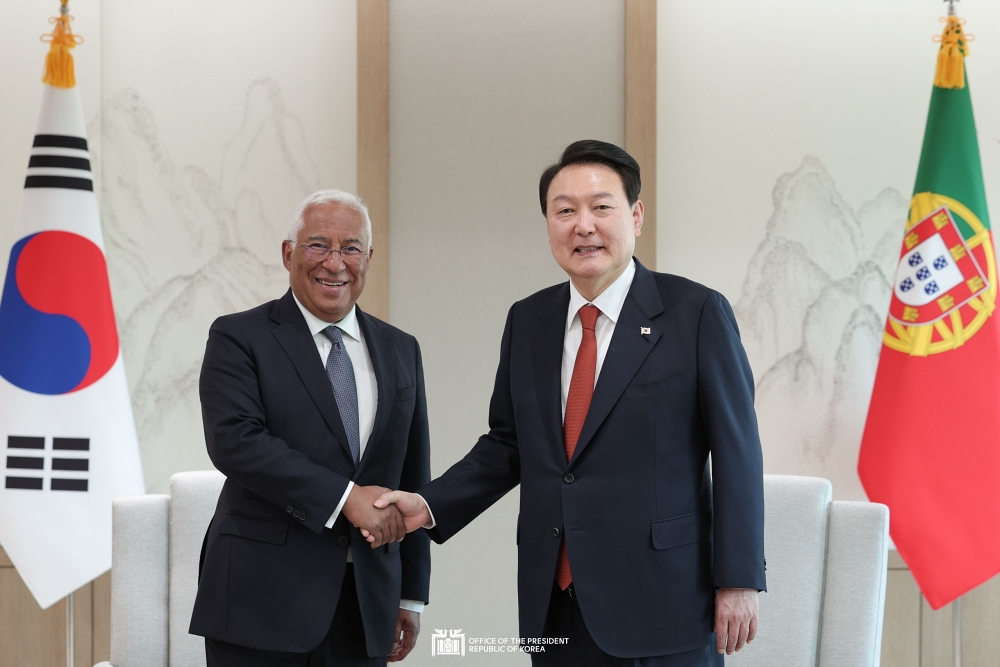 President Yoon Suk Yeol (right) and Portuguese Prime Minister Antonio Costa on April 12 take a photo before their talks at the presidential office in Seoul. (Office of the President)
President Yoon Suk Yeol on April 12 hosted talks with visiting Portuguese Prime Minister António Costa at the Office of the President in Seoul.
Both leaders discussed bilateral relations, economic cooperation and Busan's bid to host the 2030 World Expo, presidential spokesperson Lee Do Woon said in a news release.
Prime Minister Costa is the first Portuguese leader to officially visit Korea since 1984.
President Yoon said, "Portugal is a longtime friend of Korea and a well-known nation here as the country of Paulo Bento, who greatly impressed our people by leading us to the round of 16 in the Qatar World Cup, and that of United Nations Secretary General António Guterres."
"Korea and Portugal have great potential to expand cooperation in future industries like semiconductors and electric vehicle batteries," he added. "Our government will pay attention to and provide necessary support for our corporations' investment that utilizes Portugal's strengths."
Prime Minister Costa said, "We are strongly determined to further boost economic cooperation with Korea," adding, "I hope that my visit to Korea can serve as an opportunity for close cooperation with Korea in various sectors of the future."
President Yoon also requested Portugal's support for Busan's bid to host the 2030 World Expo.
korea.net