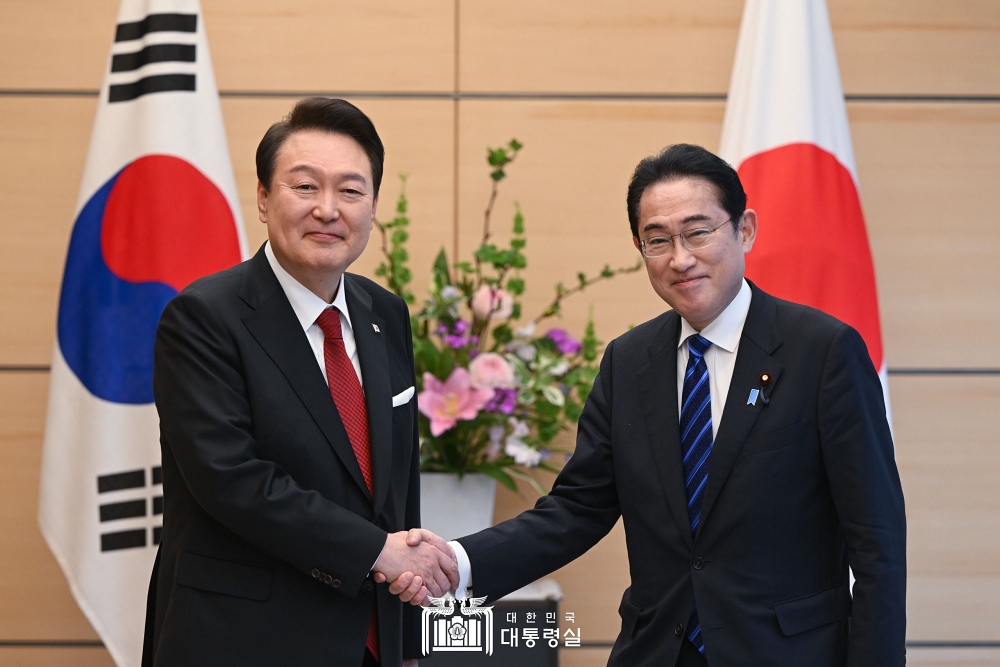 The Office of the President has hailed as "a big success" President Yoon Suk Yeol's visit to Japan from March 16-17.
Presidential spokesperson Lee Do Woon on March 19 told a briefing, "The evaluation that the latest summit is a crucial starting point in shifting Korea-Japan ties toward a future-oriented relationship is common from the international community as well as both nations."
"If diplomacy is about opening the heart of the other side and turning the tide in bilateral or multilateral relations, this visit to Japan by President Yoon was a big success."
During his trip, President Yoon held talks not only with Japanese Prime Minister Fumio Kishida but also 12 prominent politicians, about 10 business leaders and hundreds of Keio University students.
In a meeting with the president on March 17, former Japanese Prime Minister Taro Aso said, "The president apparently had domestic political issues but decided to visit Japan this time," adding, "I highly applaud this decision made for the benefit of both countries and again welcome it."
"During his visit to Japan, an atmosphere of agreement in public opinion arose in both nations, something rare in Korea-Japan relations," he said. "As a political leader, President Yoon made a pivotal decision for the future of bilateral ties."
"(Through this visit), the Korean government is in a relatively advantageous position in Korea-Japan relations and formed an atmosphere that allows our leading position in international relations," he added. "The international community commends President Yoon's decision, and if Prime Minister Kishida responds, big changes for both the Korean Peninsula and the world can be expected."
Spokesperson Lee said, "If Prime Minister Kishida appropriately responds, the three countries of Korea, the U.S. and Japan are expected to lead changes in national security and economy in the international community in going beyond the Korean Peninsula and Northeast Asia."
korea.net