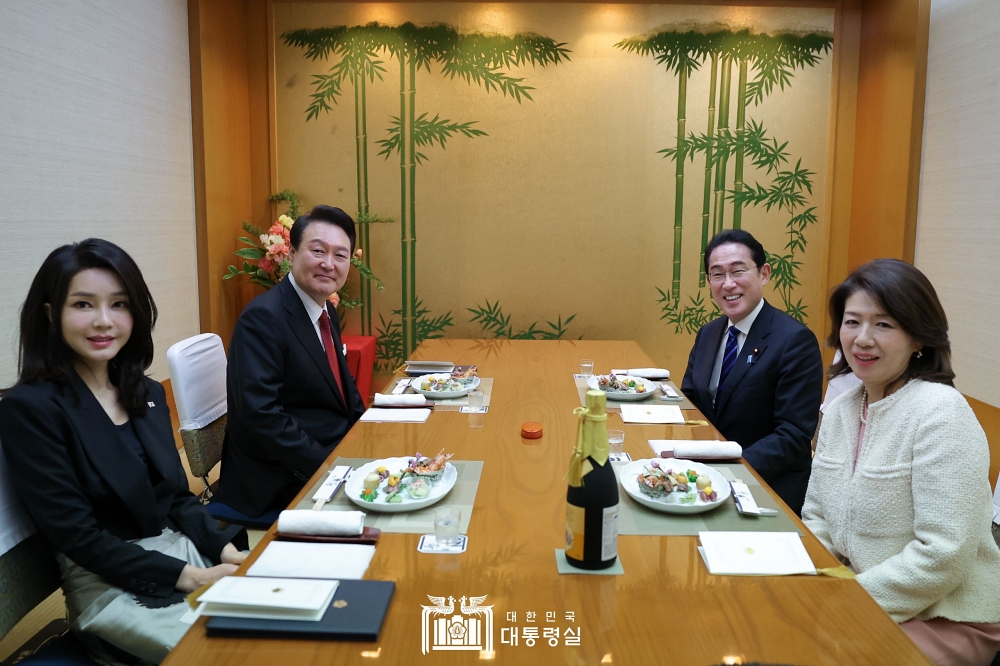 President Yoon Suk Yeol on March 17 said on his bilateral summit with Japan, "I believe that announcing a new start in Korea-Japan relations to the people of both nations, the closest neighbors that share universal values, is meaningful."
In a tweet released that day, President Yoon said he was the first Korean leader in 12 years to visit Japan and held a summit with Japanese Prime Minister Fumio Kishida.
"I hope to work together to create brighter bilateral ties for future generations," the president said.
On March 16, the president and his Japanese counterpart held summit talks on improving relations in a larger number of fields including national security, diplomacy and economy.
Staying in Japan on a two-day visit, President Yoon spent about 85 minutes in the summit at the Prime Minister's Office of Japan in Tokyo.
The two leaders each released an announcement at a joint news conference after their talks.
"This year marks the 25th anniversary of the joint Kim Dae-jung–Obuchi Declaration," President Yoon said. "(The summit) is the first step in overcoming our unfortunate history by progressively inheriting the spirit of the joint declaration and opening a new era of cooperation between Korea and Japan."
On bilateral relations, he said, "We agreed that people of both countries suffered direct and indirect damage caused by frozen bilateral relations and to restore Korea-Japan relations as soon as possible."
President Yoon said they agreed to speed up talks on boosting cooperation in diverse sectors like national security, economy, and human and cultural exchanges. The National Security Council will launch bilateral dialogue on economy and national security, he added.
On compensation of Korean victims forced to work during Japanese occupation of the Korean Peninsula, the president said, "With our government's announcement of a solution, the cornerstone was laid for full-scale discussion on the direction of future-oriented development," adding, "No presumption was made of exercising the right to indemnity (from Japanese defendant companies)."
In his statement, Prime Minister Kishida called President Yoon's visit "a huge step in normalizing bilateral ties," saying, "The Japanese government generally inherits the stances of previous cabinets on historical awareness, including that on the (Kim Dae-jung–Obuchi) Korea-Japan joint declaration announced in October 1998."
With Korea's announcement on its solution to the forced labor issue, he said, "I expect major expansion of exchanges between Korea and Japan in the fields of politics, economy and culture."
After their summit, the two leaders had dinner at a sukiyaki (Japanese hot pot) restaurant in the downtown Tokyo district of Ginza.
President Yoon and first lady Kim Keon Hee on March 16 at 7:40 p.m. arrived at Yoshizawa, a restaurant renowned for sukiyaki, according to a news release from presidential spokesperson Lee Do Woon.
Prime Minister Kishida arrived at the restaurant earlier and greeted President Yoon and his wife at the entrance. Both leaders, first lady Kim Keon Hee and her Japanese counterpart Yuko Kishida also took photos.
The two couples took off their shoes and went to the basement toward the venue of their dinner. Spokesperson Lee said four interpreters sat with them at a horigotatsu (traditional Japanese table) room.
Prior to the summit, news was released of Japan lifting its export restrictions on Korea, Seoul's withdrawal of its complaint over the matter with the World Trade Organization and the setup of a "Korea-Japan future partnership fund" by the business sectors of the two countries.
korea.net