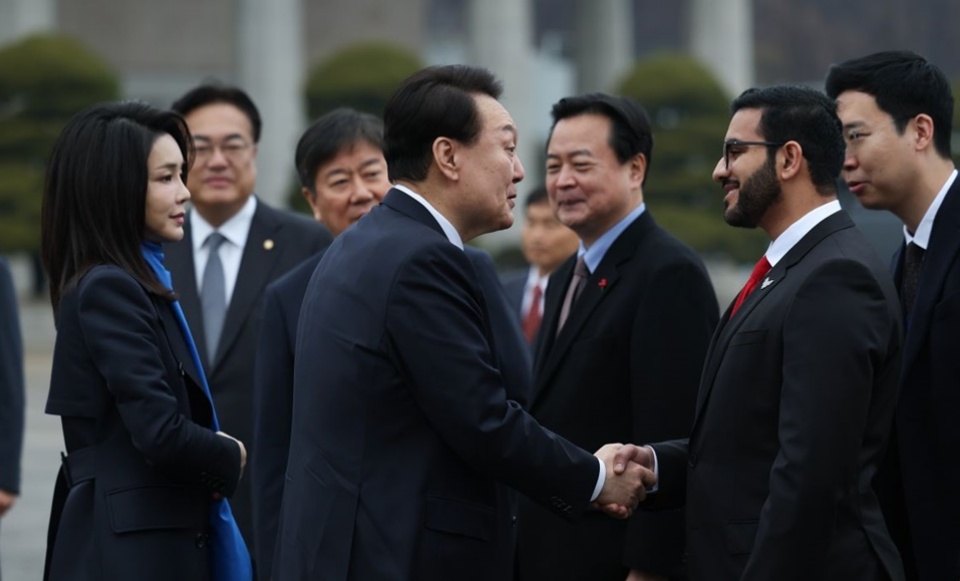 President Yoon Suk Yeol from Jan. 14 will leave for an eight-day visit of the United Arab Emirates (UAE) and Switzerland in his first overseas tour of the new year.
Director of National Security Kim Sung-han and Senior Presidential Secretary for Economic Affairs Choi Sang-mok on the afternoon of Jan. 10 announced the itinerary of the president's trip in a briefing at the Office of the President in Seoul's Yongsan-gu District.
President Yoon from Jan. 14-17 will make a state visit to the UAE, the only Mideast country to have a "special strategic partnership" with Korea formed in 2018, at the invitation of UAE President, His Highness Sheikh Mohammed bin Zayed Al Nahyan. President Yoon will be Korea's first leader to make a state visit to the UAE since both countries established bilateral ties in 1980.
President Yoon will hold a summit with his UAE counterpart and attend a state luncheon. He will also visit the Korean military contingent Akh Unit near Abu Dhabi and a nuclear power plant in Barakah and attend events related to finance and energy.
Accompanying the president will be a business delegation including the CEOs of major domestic corporations and representing around 100 companies. Using this visit as an opportunity, the two countries will sign several memorandums of understanding and discuss contracts for defense exports.
Director Kim said, "Selection of the Middle East for his first tour of the year reflected President Yoon's intent to stimulate the economy and expand exports," adding, "This visit will strengthen strategic cooperation with our brother country UAE in the four core cooperative sectors of nuclear power, energy, investment and defense."
On Jan. 17, the president will head to Switzerland to attend the annual meeting of the World Economic Forum, also called the Davos Forum named for the Swiss city where the event is held.
Through his special address at the forum on Jan. 19, he will propose measures for global cooperation and solidarity to strengthen supply chains, make the transition to clean energy and build a digital order, while also introducing to the international community Korea's role in supporting these ideas.
Earlier on Jan. 18, the president will hold talks in Davos with CEOs of major companies in and out of Korea on Seoul's plan for solidarity and cooperation with the private sector to overcome complex crises and achieve sustainable growth, as well as economic policies and investment issues in Korea.
Attending this discussion will be Samsung Electronics Executive Chairman Lee Jae-yong; SK Group Chairman Choi Tae-won; Hyundai Motor Group Chairman Chung Eui-sun; LG Group Chairman Koo Gwang-mo; Lotte Group Chairman Shin Dong-bin; and Hanhwa Solutions Vice Chairman Kim Dong-kwan, along with the heads of global corporations like Intel, IBM, Qualcomm, J.P. Morgan, Sony and Mubadala Investment Company.
President Yoon will also attend a meeting of ethnic Korean residents in Switzerland and the event "Korea Night" to promote Busan's bid to host the 2030 World Expo. His final schedule before returning home is a visit to ETH Zurich (Swiss Federal Institute of Technology) to discuss cooperation in science and technology with quantum technology scholars.