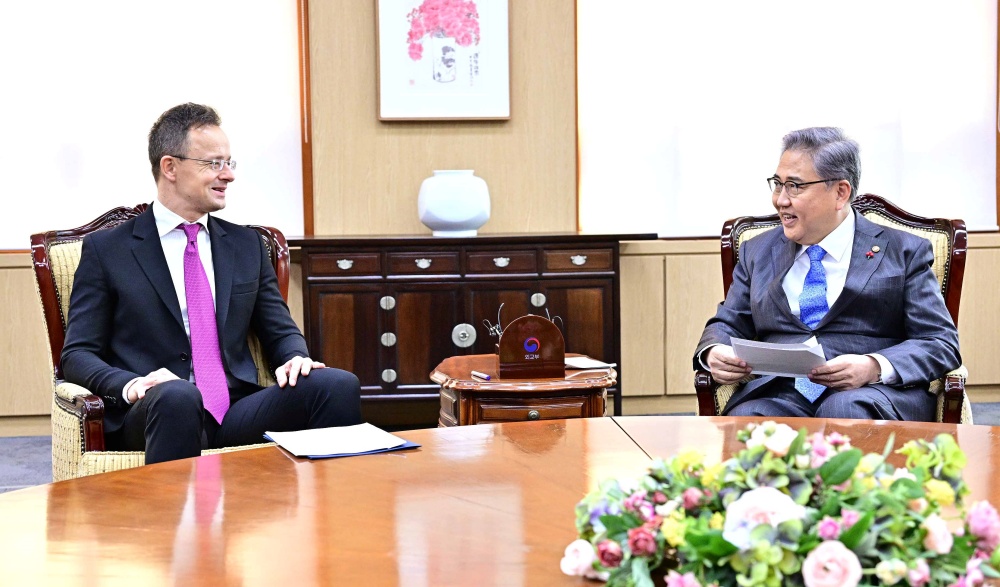 1. On December 20, Minister of Foreign Affairs Park Jin met with Hungary's Minister of Foreign Affairs and Trade Péter Szijjártó and discussed ways to develop bilateral relations, cooperation on the multilateral stage, and key regional affairs including the situation on the Korean Peninsula.
2. The two Ministers agreed to work together to further enhance bilateral ties, which were upgraded to a "strategic partnership" in November 2021, in a range of areas.
o Minister Szijjártó expressed his appreciation of the contribution Korean businesses are making to the Hungarian economy through large-scale investments, adding that he hoped to see bilateral economic cooperation expand into future industries.
o Taking note of the continued increase in bilateral trade and investment, Minister Park called for the continued support of his Hungarian counterpart for Korean companies in Hungary facing difficulties caused by the recent hikes in energy prices and wage.
- He also drew his attention to some of the latest initiatives of the European Union (EU), including the Carbon Border Adjustment Mechanism (CBAM), adding that the bloc's legislation should not negatively impact Korean businesses' access to the single market.
o Both Ministers saw potential for increased cooperation in nuclear energy, in particular in the field of training and education and small modular reactors (SMRs), and agreed to seek ways to promote nuclear energy cooperation between the two countries.
3. They agreed to further strengthen cooperation on the multilateral stage, including at the United Nations, and also continue cooperation in the Visegrád Group (V4)-plus-Korea format.
o Minister Park expressed his gratitude to Minister Szijjártó for Hungary's official support for Busan's bid to host the 2030 World Expo that was delivered in a letter by Prime Minister Viktor Orbán soon after a phone call between the two Foreign Ministers back in August.
4. Minister Park called for Hungary's constructive role in ensuring a united response of the international community to prevent further provocations by North Korea. Minister Szijjártó reaffirmed Hungary's continued support for the Korean government's efforts to denuclearize North Korea and achieve peace on the Korean Peninsula.