@ Follow the link(Office of the President Republic of KOREA)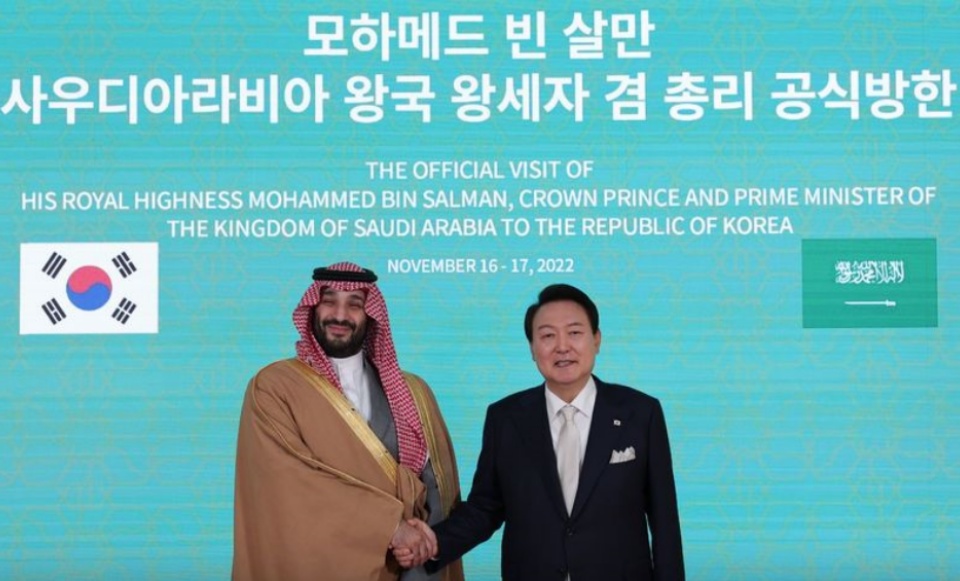 President Yoon Suk Yeol on Nov. 17 held talks with visiting Saudi Arabian Crown Prince Mohammed bin Salman, who is also his nation's prime minister, on the development of bilateral cooperation.
The president held individual and extended talks with and later hosted an official luncheon for the crown prince, whose visit marked the 60th anniversary of bilateral relations, the Office of the President said.
At their summit starting at 11:40 a.m., President Yoon said, "Saudi Arabia is Korea's largest trading partner in the Middle East and a partner in overseas construction, as well as a core partner in our economic and energy security," adding, "Saudi Arabia is opening a new future through its 'Vision 2030' led by Crown Prince Mohammed, so now is the right time to raise bilateral ties to a new level."
"I hope that both countries can further expand and develop cooperation in investment collaboration in new growth sectors, participation in mega projects such as Neom city, cooperation in the defense industry, development of future energy sources like hydrogen, and boosting cultural exchanges and tourism."
Neom is the world's largest project for smart city construction announced by the crown prince in 2017 for Saudi Arabia as a long-term national program to reform the country's oil-dependent economic structure. The cost is an estimated USD 500 billion (KRW 686 trillion).
Crown Prince bin Salman said, "Since diplomatic ties were formed, Korean companies have greatly contributed to developing the national infrastructure of Saudi Arabia," adding, "I hope to bolster our cooperation with Korea to realize the Saudi Vision 2030 based on the mutual trust built in this process."
He said he especially hoped to "drastically bolster" bilateral cooperation in the three sectors of energy, the defense industry, and infrastructure and construction.
Through this summit, both sides agreed to further develop bilateral ties into a "future-oriented strategic partnership" and set up a "strategic partnership committee" to this end.
With the Korea-Saudi Arabia Vision 2030 Committee at the center, the two leaders also agreed to strengthen cooperation so that both sides can produce substantial results in energy, investment and cooperation in the defense industry, as well as cultural and human exchanges and tourism.
Making his last visit to Korea in June 2019, the crown prince arrived at 12:30 a.m. at Seoul Air Base in Seongnam, Gyeonggi-do Province, and will fly to Japan after his two-day trip.