@ Follow the link(Office of the President Republic of KOREA)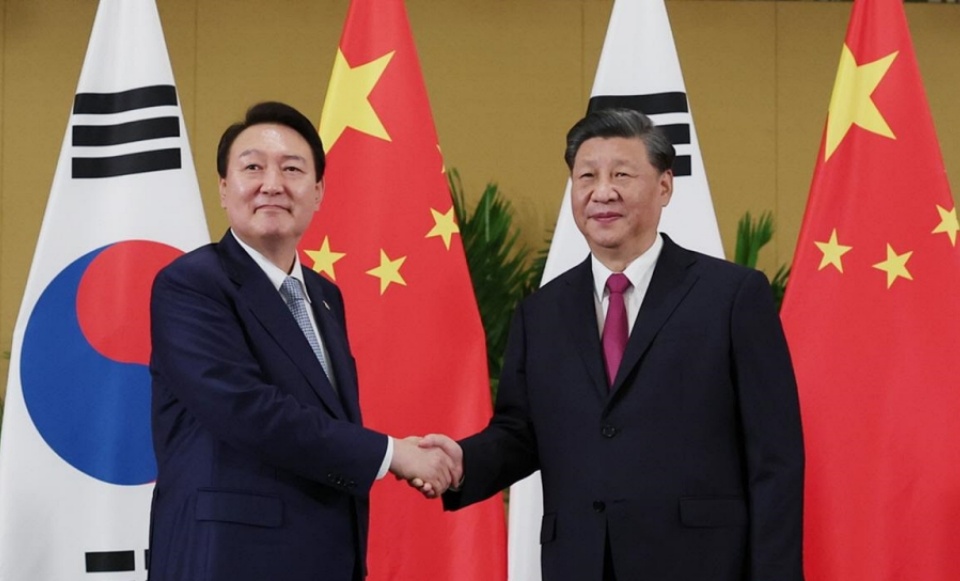 President Yoon Suk Yeol, on a visit to Bali, Indonesia, to attend the Group of 20 (G20) summit, on Nov. 15 will hold a bilateral summit with Chinese President Xi Jinping at 5 p.m. local time.
Deputy presidential spokesperson Lee Jae-myoung in Seoul told a morning news briefing the schedule of the upcoming meeting.
President Xi is also in Bali for the G20 summit and both leaders will hold their first talks since President Yoon took office in May this year.
This will also be the first summit between the two sides in nearly three years. On Dec. 23, 2019, then President Moon Jae-in and President Xi at the Great Hall of the People in Beijing held talks on the sidelines of a trilateral summit among Korea, China and Japan.
Earlier on Nov. 14, President Yoon emphasized the importance of changing government's roles to overcome the complex global crisis and digital transformation at the B20 Summit, which was attended by representatives from economic organizations and business leaders of G20 states.
"We must find the solution to the complex crisis of the global economy on the private sector-led supply side, and the key to supply innovation lies with digital transformation," he said.
"Unlike the 2008 global financial crisis and the 2020 pandemic crisis, the crisis we face is mostly because of the supply side instead of demand factors," he added. "We must also search for the crisis response solution on the supply side and change the role of government."
"Given global circumstances, the key to private sector-driven supply innovation lies with digital transformation."
Turning to his administration's policy, he said, "The Korean government as a core task is promoting a 'digital platform government' led by the private sector to greatly boost the quality of public services and forming a new environment creating new value by combining public data and private services."
On the same day, President Yoon chatted with Indonesian President Joko Widodo at the Korea-Indonesia Business Roundtable at Bali Nusa Dua Convention Center in Bali.
In a light conversation, President Yoon said, "Both countries must bolster supply chain links given their complementary industrial structures."
"As part of this, Korea is an optimal partner for Indonesia thanks to its cutting-edge manufacturing technologies in sectors like semiconductors, batteries and cars and Indonesia is pushing its vision 'Making Indonesia 4.0' to develop its manufacturing sector based on its abundant natural resources."
President Yoon also told his Indonesian counterpart that he hopes for close bilateral
cooperation by taking advantage of each other's strengths in clean energy sectors such as nuclear, renewable and hydrogen as well as in digital economy .
The two sides also signed six government-level memorandums of understanding (MOU) on tasks like holding high-level bilateral dialogue on investment. In the corporate sector, they signed four MOUs including one on cooperation in smart city development.