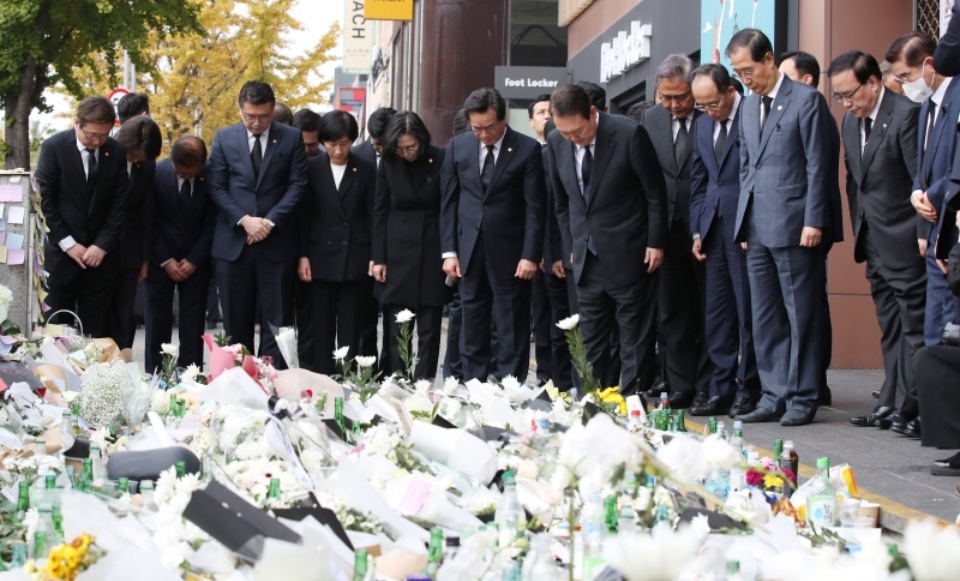 By Park Hye Ri
Photos = Yonhap News
President Yoon Suk Yeol on Nov. 1 pledged support for foreign nationals who died in the "Itaewon incident" equal to that for Koreans at a Cabinet meeting he chaired at the Office of the President in Seoul's Yongsan-gu District.
"World leaders including U.S. President Joe Biden, Japanese Prime Minister Fumio Kishida and Chinese President Xi Jinping sent their sincere condolences," the chief executive said. "On behalf of the Korean people, I would like to extend my deepest thanks to heads of state and people around the world for showing their warm consolation."
"We need safety measures for crowd management even in places where masses gather such as stadiums and concert halls," he added. "Since public safety is crucial, thorough policy measures should be taken regardless of whether there is an event organizer."
"We must unite to overcome the sadness and trauma confronting our society," he said. "Once again, I express my deepest condolences to those who died in the unexpected incident and their bereaved families. "
The Central Disaster and Safety Countermeasures Headquarters said 26 foreign nationals from 14 countries -- Iran, China, Russia, Japan, the U.S., France, Australia, Vietnam, Uzbekistan, Norway, Kazakhstan, Sri Lanka, Thailand and Austria -- died in the incident.
Prime Minister Han Duck-soo ordered public servants to provide individualized support to the relatives of the 26, and announced a plan to issue arrival visas for them at Incheon International Airport for convenient entry into the country.
The Seoul Metropolitan Government also said the city's 120 Dasan Seoul Call Center will expedite the reporting of foreign nationals missing from the incident in four languages: English, Japanese, Chinese and Vietnamese. The Ministry of Justice also formed an emergency response team at the Seoul Immigration Office to help identification, entry and stay for the bereaved relatives and their guardians, as well as with interpretation.
Ambassadors in Seoul sent condolatory messages and their embassies hoisted their flags at half-mast over the incident.
U.S. Ambassador Philip Goldberg, British Ambassador Colin Crooks, Ukrainian Ambassador Dmytro Ponomarenko, Chinese Ambassador Xing Haiming and other diplomats offered their condolences at joint memorial altars for the deceased at Seoul Plaza and Noksapyeong Station.
hrhr@korea.kr