@ Follow the link(Office of the 20th President)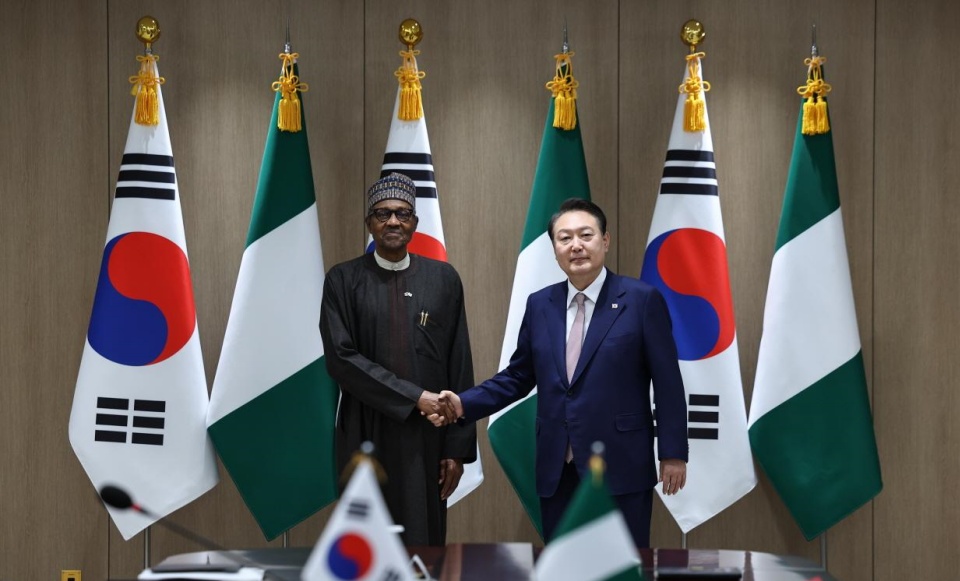 By Lee Kyoung Mi
President Yoon Suk Yeol on Oct. 26 at his office in Seoul's Yongsan-gu District hosted summit talks with Nigerian President Muhammadu Buhari on expanding bilateral cooperation.
President Yoon welcomed President Buhari, the first Nigerian leader to visit Korea in 10 years, and expressed sympathy for the Nigerian people for the damage caused by record-breaking floods in the African country, according to the Office of the President.
President Buhari is in Seoul to attend the 2022 World Bio Summit.
"I sincerely welcome you, the Nigerian president, for coming to Korea for the first time in 10 years," President Yoon said.
"Record-breaking floods recently caused a lot of casualties in Nigeria, and on behalf of the Korean people, I express my condolences to the victims and their bereaved families while hoping for an early return to daily life."
"Nigeria has the largest economic scale in Africa and both the economic and cultural capacities as a cultural power to greatly contribute to bilateral exchange and cooperation," President Yoon said. "As Nigeria was the first African country to get a Korean Cultural Center in (the capital) Abuja, our government will also strive to further expand exchange and cooperation."
President Buhari responded by saying, "After coming to Korea, I was deeply impressed with this fantastic country." He also thanked President Yoon for expressing sympathy related to Nigeria's recent flooding.
Both leaders praised 42 years of bilateral relations that developed through friendly cooperative ties in a range of sectors. They also discussed systematically boosting economic cooperation through an agreement on double tax avoidance, collaborating in the defense industry and teaming up in the international community, including through the United Nations.