@ Follow the link(Office of the 20th President)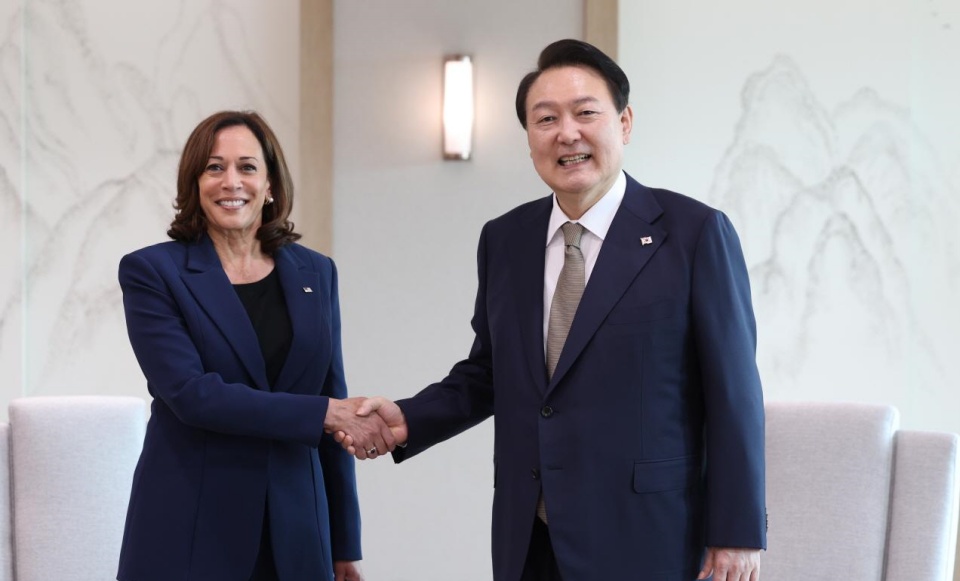 By Xu Aiying
President Yoon Suk Yeol on Sept. 29 held talks with visiting U.S. Vice President Kamala Harris Korea on issues of common interest and regional and global issues.
In his introductory speech at the presidential office in Seoul's Yongsan-gu District in the morning, President Yoon said, "The Korea-U.S. alliance is developing into a global alliance going beyond the Korean Peninsula and expanding from a military alliance to an economic and technological alliance."
"President Biden and I met several times last week in London and New York to reach a consensus on the direction of developing our alliance," he added. "We will continue to develop the Korea-U.S. alliance as a strong pillar that protects the freedom, safety and prosperity of our people."
"Following President Biden's trip to Korea, I hope that the visit to Korea by Vice President Harris today is another watershed in further developing the bilateral alliance."
Vice President Harris was quoted by the White House by saying, "For nearly 70 years, the U.S.-ROK Alliance remains a linchpin of peace, stability, and prosperity in the Indo-Pacific and around the world."
She added that the purpose of her Korea visit was to bolster the power of both countries and solidify joint efforts.
Her visit was the first to Korea by an incumbent U.S. vice president since February 2018, when then Vice President Mike Pence came for the 2018 PyeongChang Winter Olympics.
Vice President Harris was slated to fly home in the evening after attending a meeting with Korean women and visiting the Demilitarized Zone.
Earlier on Sept. 28, President Yoon held talks with visiting British Secretary of State for Foreign, Commonwealth and Development Affairs James Cleverly on major issues like boosting bilateral relations and discussing issues involving the Korean Peninsula.
Secretary Cleverly again thanked President Yoon for attending the state funeral of Queen Elizabeth II and offering condolences to the British royal family, government and people. The official said his country was deeply touched by the warmth and comfort of the Korean people.
President Yoon said, "Bilateral relations between Korea and the U.K. have been developing based on the common values of liberal democracy and market economy," asking for British support for Busan's bid to host the 2030 World Expo.