@ Follow the link(Office of the 20th President)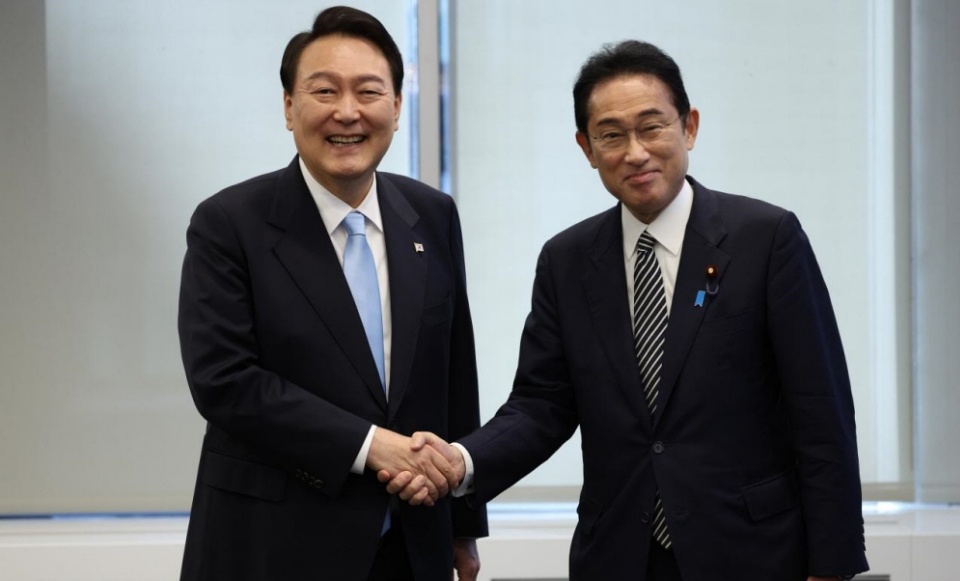 By Park Hye Ri
President Yoon Suk Yeol and Japanese Prime Minister Fumio Kishida on Sept. 21 in New York held their first summit talks, discussing issues of common interest.
On a visit to the Big Apple to attend the 77th United Nations General Assembly, President Yoon hosted informal talks lasting 30 minutes with his Japanese counterpart at a conference building near U.N. headquarters from 12:23 p.m., according to the presidential office in Seoul.
This was the first talks between the leaders of both nations in two years and nine months since a December 2019 meeting between then President Moon Jae-in and Japanese Prime Minister Shinzo Abe in Chengdu, China.
At the New York summit, both leaders agreed to form solidarity and cooperate with the international community to uphold the universal values they share like liberal democracy, human rights and rule of law.
The two sides shared serious concern over North Korea's nuclear program, including the North's recent enactment of a law declaring itself a nuclear weapons state and the possibility of a seventh nuclear missile test, and agreed to work closely with the international community in response, according to the presidential office.
Both leaders agreed on the need to improve bilateral ties by resolving pending issues, and to this end, they decided to continue consultations while expediting dialogue between officials of their foreign ministries.
President Yoon and Prime Minister Kishida also agreed to maintain communication as leaders of their countries.