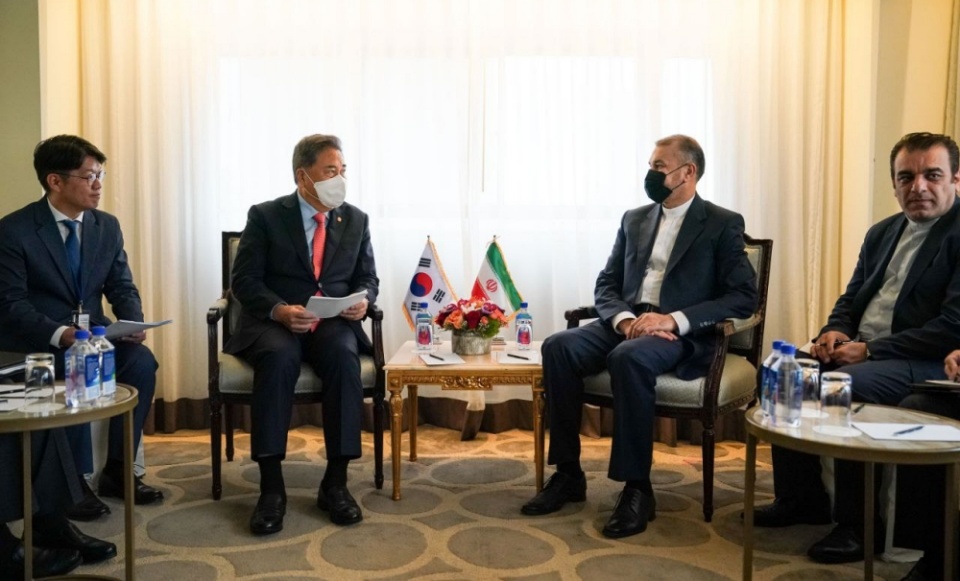 1. On the occasion of the visit to New York to attend the 77th Session of the United Nations General Assembly, Minister of Foreign Affairs Park Jin had a meeting on September 19 with Minister of Foreign Affairs of the Islamic Republic of Iran Hossein Amir-Abdollahian. They engaged in an exchange of views on the recent developments in the negotiations on reviving the Joint Comprehensive Plan of Action (JCPOA), as well as on pending bilateral issues, including the issue of frozen Iranian assets in Korea.
2. Minister Abdollahian expressed his hope that the frozen assets would be released promptly and the relations between the two countries restored. Minister Park emphasized that, considering the importance of the ROK-Iran relations, the Korean Government would continue to play its role in concluding negotiations on the revival of the JCPOA.
° In particular, Minister Park mentioned that, with the clear recognition that the assets belong to the Iranian people, Korea had frequently consulted with the United States and other relevant countries for the release of the frozen assets and that the funds had been utilized for the payment of Iran's UN contributions as well as for humanitarian trade. He emphasized that the Korean Government has engaged in utmost efforts for the sake of resolving the issue and that such endeavors will be continued in the future also.
3. Minister Park explained that the Korean Government and companies are making full preparations to resume economic cooperation with Iran in preparation for the restoration of the JCPOA and the lifting of sanctions, and requested that Iran make efforts to restore the JCPOA which is in the interests of both countries.
4. In addition, Minister Park, expressing the hope for the expansion of mutually beneficial exchanges and cooperation between the two countries on the occasion of the 60th anniversary of diplomatic ties this year, explained that various events to mark the anniversary will be held in Seoul to boost people-to-people exchanges between the two nations.
° In this regard, Minister Park emphasized the importance of creating a friendly atmosphere for the restoration of bilateral relations by sending out positive messages, and expressed the wish for the two countries to continue to engage in close communication.
5. With the two Ministers concurring on the importance of communication, in response to Minister Abdollahian's invitation for Minister Park to visit Tehran, Minister Park said that he will seek to pay such a visit at a mutually convenient time.