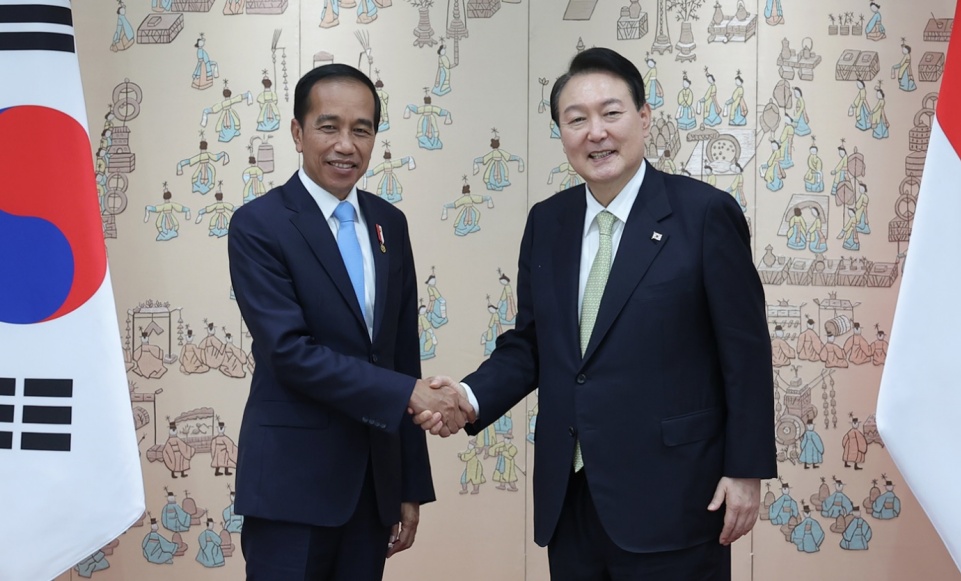 President Yoon Suk Yeol on July 28 in the afternoon will host a summit with Indonesian President Joko Widodo at the presidential office in Seoul's Yongsan-gu District.
The summit marks President Yoon's first with a leader from a member state of the Association of Southeast Asian Nations (ASEAN) since he assumed office.
President Widodo and first lady Iriana Widodo on July 25 began a tour of Korea, China and Japan, arriving at Seoul Air Base in Seongnam, Gyeonggi-do Province, in the evening of July 27.
This is the Indonesian leader's first visit to Korea in three years since attending in November 2019 the ASEAN-ROK (Republic of Korea) Commemorative Summit and Mekong-ROK Summit in Busan.
The two leaders will discuss in depth cooperation methods in the defense industry and economic security.
National Security Office Director Kim Sung-han on July 25 announced at a media briefing the schedule of the bilateral summit, saying, "Through this summit, we will discuss cooperation methods in various sectors including the defense industry, infrastructure and economic security."
"We also plan to hold in-depth consultations on leading global issues such as our Indo-Pacific strategy and cooperation with ASEAN."
The director added, "This visit to Korea (by President Widodo) will not only bolster bilateral relations, but also signal the full-fledged start of the Yoon administration's 'diplomacy with ASEAN.'"
Accounting for 41% of ASEAN's population and 34% of the region's GDP, Indonesia is also the only ASEAN state to have a special strategic alliance with Korea.
Both leaders will attend with their spouses an official banquet at the presidential office after their summit.
eykim86@korea.kr