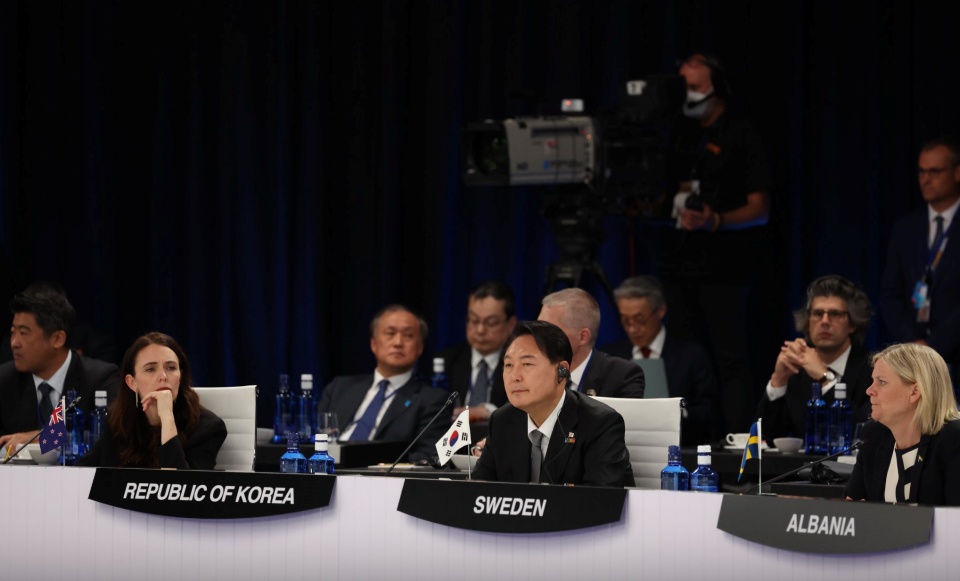 President Yoon Suk Yeol on June 29 attended a meeting of the North Atlantic Council at the level of head of state and government with partner countries at the North Atlantic Treaty Organization (NATO) summit in Madrid, Spain.
He said, "To lead North Korea toward the path of denuclearization, we must clearly show that the international community has a stronger determination to denuclearize North Korea than the North's reckless intent to develop nuclear missiles."
Staff from the presidential office in Madrid delivered a briefing on his speech at the summit, which took place at IFEMA Convention Center in Madrid.
As the first Korean head of state to attend the NATO event, President Yoon was the seventh speaker after British Prime Minister Boris Johnson.
"North Korea's nuclear and missile programs are clear violations of the resolution of the United Nations Security Council, and pose a grave challenge to peace and security on the Korean Peninsula and the international community," the president said.
"We value NATO's consistent support for us in North Korean issues."
"Since forging a global partnership in 2006, the Republic of Korea and NATO have developed security cooperation in the political and military sectors," he added. "Now the Republic of Korea will play a bigger role with the international community and take full responsibility as a capable country."
"Freedom and peace are guaranteed through solidarity with the international community," the chief executive said in concluding his speech. "I hope that our cooperative relations serve as the cornerstone for solidarity that protects universal values and principles."
On the same day, President Yoon held a trilateral summit with U.S. President Joe Biden and Japanese Prime Minister Fumio Kishida in Madrid to stress the need for security cooperation among the three countries to resolve the North's nuclear issue.
In the first meeting of its kind in four years and nine months, President Yoon said, "The (Democratic People's Republic of Korea)'s nuclear and missile threats continue to evolve, and the global landscape is facing increased uncertainties, thereby rendering our trilateral partnership all the more significant."
"I hope that our meeting today will position the (Republic of Korea) -U.S.-Japan partnership as yet another central pillar of global peace and stability."
In response, President Biden and Prime Minister Kishida agreed, saying they also look forward to trilateral cooperation and a stronger joint response through continued dialogue.
In a briefing on this summit, a staff member from the presidential office said at a media center for Korean reporters in Madrid, "The security cooperation among (South) Korea, the U.S. and Japan was restored today."
Yonhap News and other Korean media also reported that the three leaders agreed to discuss boosting the American commitment to raise its deterrence capacity and upgrade security cooperation among the three countries.
arete@korea.kr