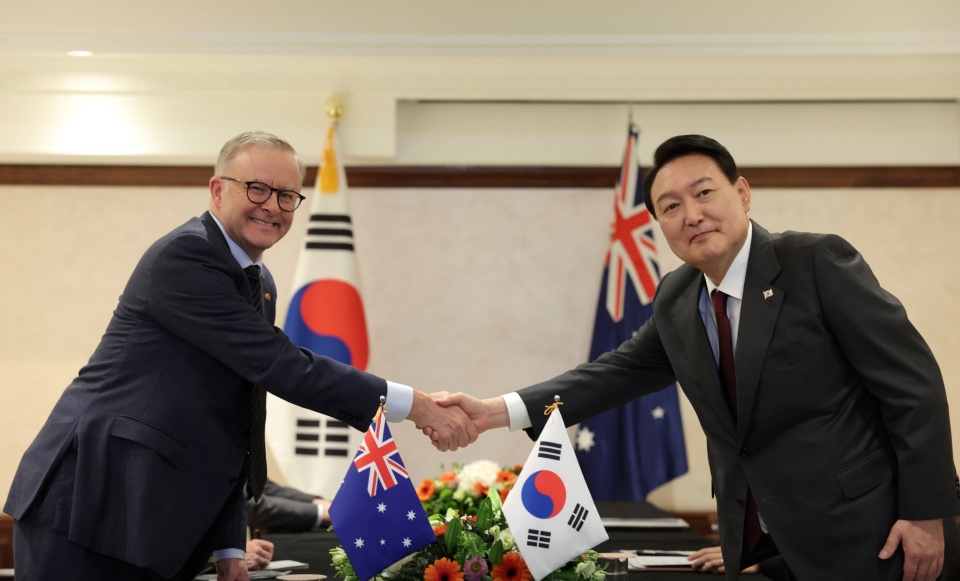 President Yoon Suk Yeol on June 28 held bilateral talks with Australian Prime Minister Anthony Norman Albanese in Madrid, Spain, the first event on the president's official schedule on the sidelines of the North Atlantic Treaty Organization (NATO) summit.
The presidential office on the same day said both leaders in the afternoon held their dialogue at a hotel in the Spanish capital, where they agreed to closely cooperate in getting North Korea to stop its nuclear program and maintaining peace on the Korean Peninsula based on the values of democracy, human rights and the market economy.
They also discussed economic and security issues like cooperation in energy and climate change, green technology of both countries for carbon neutrality, cutting-edge industrial materials and the supply network of rare minerals.
"We ask Australia, the leader nation of the Pacific Islands Forum, for assistance in Busan's bid to host the 2030 World Expo," President Yoon said.
Prime Minister Albanese responded by pledging "appropriate consideration" of the request, according to the presidential office.
Later in the evening, President Yoon and first lady Kim Keon Hee attended a welcoming gala dinner hosted by Spanish King Felipe VI, the first time for the presidential couple to attend the same event on this overseas trip. The event was intended to welcome leaders from the NATO summit's participating nations.
On the afternoon of June 29, President Yoon in Madrid will hold a trilateral summit with U.S. President Joe Biden and Japanese Prime Minister Fumio Kishida.
The three leaders will discuss cooperation in responding to the North's nuclear issue and economic and security strategies. The summit is the first of its kind in four years and nine months since September 2017, when President Moon Jae-in held talks with Washington and Tokyo on the sidelines of the United Nations General Assembly in New York.
km137426@korea.kr