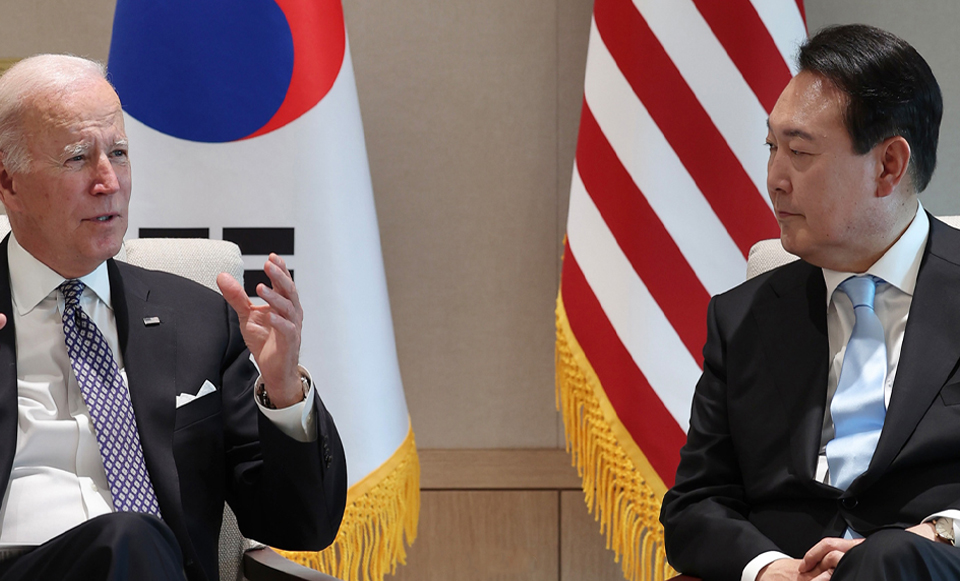 President Yoon Suk Yeol and U.S. President Joe Biden on May 21 agreed to upgrade the bilateral alliance of their countries to a "global comprehensive strategic alliance."
On the occasion of President Biden's official visit to Korea, the two leaders held a bilateral summit at the Office of President in Seoul's Yongsan-gu District. They discussed key issues such as North Korea, economic security and global cooperation.
Both sides agreed on their common goal of upgrading their bilateral alliance to a global comprehensive strategic alliance and adopted a joint statement.
At the joint news conference after the summit, President Yoon said, "Having evolved over the last 69 years, the Korea-U.S. alliance faces new challenges like the denuclearization of North Korea, pandemic crisis, changes in the trade order and restructuring of supply chains, climate change and crisis in democracy."
"Under the global comprehensive strategic alliance, Korea and the U.S. will jointly respond to such challenges to create a rule-based order.".
President Biden said the bilateral alliance was founded in a common sacrifice and shared will for the freedom of Korea, as well as a strong commitment not to change borders by force. He added that the alliance will be upgraded a level thanks to his visit to Korea.
On Korean Peninsula issues, the two leaders reaffirmed their common goal of the complete denuclearization of North Korea and agreed to bolster the "airtight" bilateral alliance to that end. They also warned that the North's nuclear program posed a grave threat to peace and security not just on the peninsula but also in the rest of Asia and the world.
With the North reportedly suffering from the spread of COVID-19, President Yoon added, "We are willing to provide assistance from the perspective of humanitarianism and human rights apart from political and military issues."
Both sides also discussed boosting cooperation in semiconductors and new industries. President Yoon mentioned agreements on broadening cooperation in newly emerging industries including chips, batteries, nuclear energy, space development and cyber security.
As the first step, he said the presidential offices of both countries agreed to launch an economic security dialogue for close communication and cooperation in related sectors for economic security such as supply chains and advanced science and technology. Talks will also be held on an accord on mutual defense procurement, which is considered a "free trade agreement" in the defense industry.
Korea also decided to participate in the U.S.-led Indo-Pacific Economic Framework. "The Indo-Pacific region is important for both Korea and the U.S.," President Yoon said. "Both countries will jointly build order in the Indo-Pacific region backed by norm-based international order."
President Biden expressed his support for President Yoon's initiative of Korea forming a strategic Indo-Pacific framework.
Turning to cooperation in responding to the pandemic, Seoul and Washington agreed to take part in international efforts to that end based on the global vaccine partnership. President Yoon said Korea will contribute to sustainable health security worldwide by opening a coordinating office of the Global Health Security Meeting in Seoul.
On the Ukraine crisis, both countries said they hope that the tragedy caused by Russian aggression will soon end and pledged active cooperation with the international community to allow Ukrainians to peacefully return to daily life.
President Yoon's first summit with his U.S. counterpart took about two hours. The talks began at 1:30 p.m. and were supposed to finish at 3 p.m., but lasted longer than expected.
In the evening, President Biden attended a welcoming dinner at the National Museum of Korea in Yongsan-gu District.
The next day, he will conclude his three-day visit to Korea by going to the Korean Air and Space Operation Center accompanied by President Yoon at Osan Air Base in Gyeonggi-do Province to check the overall security situation.
President Biden will then head to Japan in the evening.
arete@korea.kr