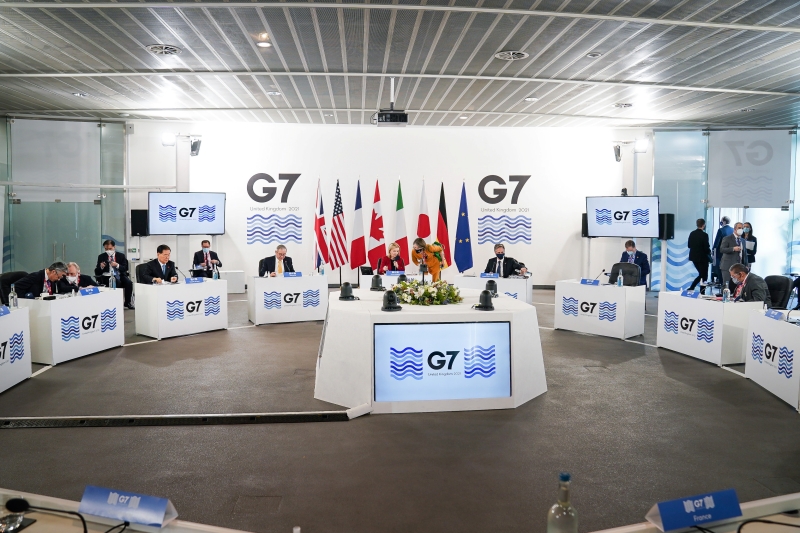 1. Minister of Foreign Affairs Chung Eui-yong attended the Group of Seven (G7) Foreign and Development Ministers' Meeting held in Liverpool, the U.K., from December 11 to 12.
° The last G7 meeting held under the chairmanship of the U.K. in 2021 was attended by the foreign ministers of the G7 member countries, the Republic of Korea, Australia and ASEAN countries.
2. Participating ministers discussed sharing values and cooperation among open societies; shared security and regional collaboration on infrastructure and technology in the Indo-Pacific; providing vaccines to achieve global vaccination goals and strengthening global health governance; and gender equality.
3. Foreign Minister Chung shared Korea's democratization experiences and conveyed the country's commitment to contribute to the COVID-19 recovery, to strengthen the resilience of global supply chains, to expand infrastructure investment in the Indo-Pacific region, and to improve cooperation between major countries.
° Foreign Minister Chung diagnosed that the open society commonly pursued by participating countries faces various challenges both internally and externally, introduced the Korean government's efforts to maintain a sound and sustainable open society, and emphasized the importance of an inclusive and balanced approach.
° Foreign Minister Chung also emphasized the need for the participating countries to cooperate in restoring the sustainability and resilience of supply chains and expanding infrastructure investment for peace and prosperity in the Indo-Pacific region, of which strategic importance is increasing, and mentioned the need for coordination between Korea's New Southern Policy and major countries' strategies.
° Regarding gender equality, Foreign Minister Chung appreciated the efforts of G7 countries to promote girls' education and shared Korea's experiences of increasing women's participation in various fields of society through education. He also reaffirmed the Korean government's unwavering position on the issue of sexual violence in conflict, expressing concern about women's human rights in Myanmar and Afghanistan.
4. Meanwhile, the attending ministers shared the view on the importance of solidarity and cooperation in the international community to achieve global vaccination targets and on the need to strengthen the global health security system, and discussed ways to improve access to vaccines to overcome the COVID-19 crisis.
5. Foreign Minister Chung held bilateral talks with his counterparts of participating countries, including the U.K., Germany, Canada, Australia and the Philippines, and had pleasant conversations with other foreign ministers as well on the occasion of the G7 meeting.
6. The Korean government participated constructively in discussions on international issues by attending the 1st G7 Foreign and Development Ministers' Meeting in May and the G7 Summit in June, and plans to take an active part in various forms of cooperation to resolve international issues.