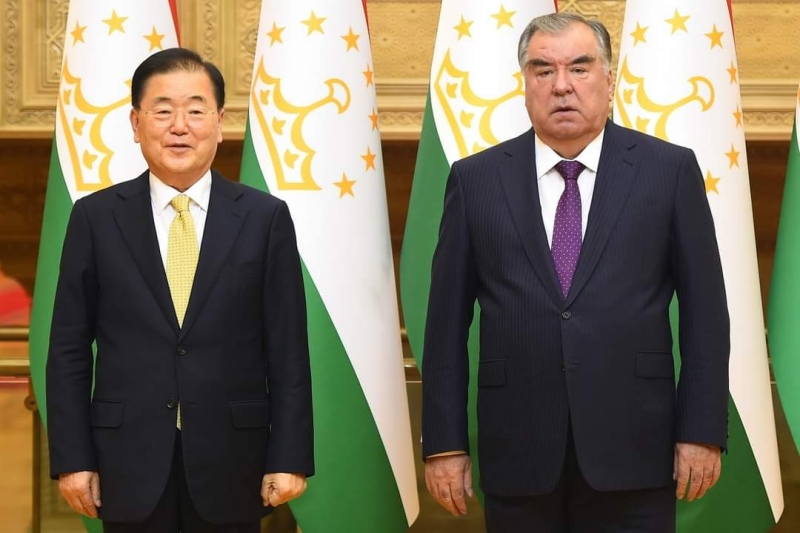 1. During his official visit to Tajikistan, Minister of Foreign Affairs Chung Eui-yong paid a courtesy call on President Emomali Rahmon at 16:30-17:00, November 29, during which the two sides exchanged views on the way forward for relations between Korea and Tajikistan, which will mark the 30th anniversary of the establishment of diplomatic ties in 2022, and regional affairs.
2. President Rahmon expressed satisfaction with the two countries' relations advancing to a high level, appreciated Korea as a reliable cooperative partner, and voiced hope that relations between the two countries, which will mark the 30th anniversary of diplomatic ties next year, will develop further in a mutually beneficial way.
3. Foreign Minister Chung, agreeing to President Rahmon's assessment of the advances in bilateral relations, explained the Korean government's efforts to promote cooperation with Tajikistan, including the establishment of the Korean Embassy in the country this year, the designation of Tajikistan as Korea's official development assistance (ODA) priority partner country, and the opening of the Office of the Korea International Cooperation Agency (KOICA) in Dushanbe next year.
° Foreign Minister Chung voiced hope that Korea and Tajikistan will work for mutually beneficial development through a harmonious nexus between the former's New Northern Policy and the latter's National Development Strategy.
4. President Rahmon mentioned deep interest in learning about Korea's development experience in various fields, expressing hope to further vitalize exchange channels between governmental consultative bodies and entrepreneurs particularly in promising areas of cooperation, including energy, water power, minerals, agriculture, tourism and chemicals.
5. Foreign Minister Chung extended appreciation to the Tajik government for hosting the 14th Korea-Central Asia Cooperation Forum in Dushanbe and expressed hope that Korea and Central Asia, as mutually reliable cooperative partners, will bolster cooperation through the Forum in such areas as economy, healthcare and international issues.
6. Foreign Minister Chung offered gratitude to Tajikistan for its official willingness to become a member of Global Green Growth Institute (GGGI), expressing his pleasure with the groundwork having been laid for Korea and the five Central Asian countries to expand cooperation on global environmental issues through GGGI.
° President Rahmon mentioned that Tajikistan is competitive in the area of green energy such as water resources, and voiced hope to increase policy cooperation with Korea in the field of green growth.
7. Foreign Minister Chung and President Rahmon also exchanged views on the situation in Afghanistan and key regional affairs.