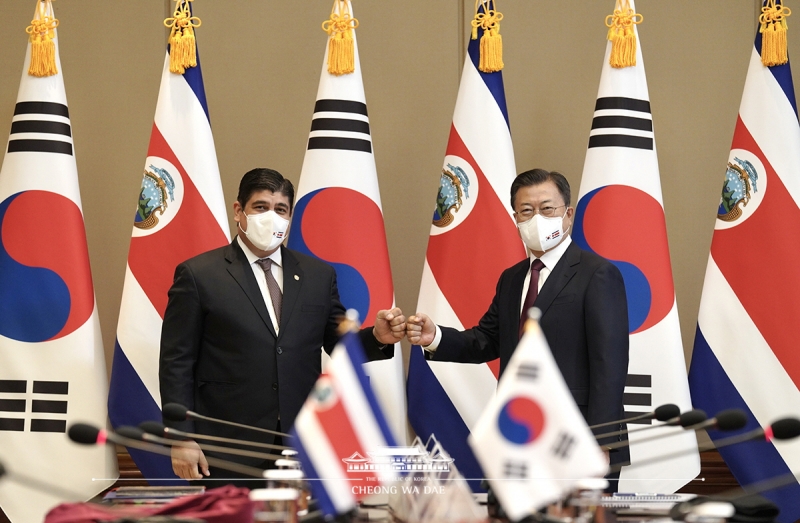 (Unofficial Translation)
I welcome President Alvarado who traveled a long distance to Korea. Your visit to Korea is all the more meaningful as it is your first trip to Asia since your inauguration.
We spoke on the phone for the first time in January and met subsequently at the P4G Summit, Korea-SICA Summit and COP26. Today, I am very pleased to welcome you as a state guest in Seoul at long last.
Costa Rica has successfully reformed its laws, policies and practices, becoming an OECD member state this year. The National Decarbonization Plan 2018-2050 underway is playing a leading role in global efforts to achieve carbon neutrality.
Next year is particularly significant as it marks the 60th anniversary of the establishment of diplomatic relations between our two countries. On the foundation of such shared values as democracy, human rights and peace, our two countries have worked together in a variety of areas. Costa Rica became the first country in the world to adopt the Korea ON-line E-Procurement System, and Korea is expanding trade in coffee and other agricultural products based on the Korea-Central America FTA. Our two countries have also jointly responded to the COVID-19 crisis by providing anti-epidemic supplies and sharing experiences with epidemic prevention and control.
Today, we are upgrading our bilateral relations to an action-oriented comprehensive partnership. Now, our two countries will become even closer. I look forward to practical and concrete achievements in various areas, including eco-friendly and digital fields, science and technology, and infrastructure. Let us usher in another 60 years of mutually beneficial cooperation together.
Thank you.