HOME
Press
Ministry News
Ministry News
Ministry News 상세보기
Vice Minister Choi Jongmoon Visits Uganda
Date : 2021-11-18 13:39:40
Hit : 1569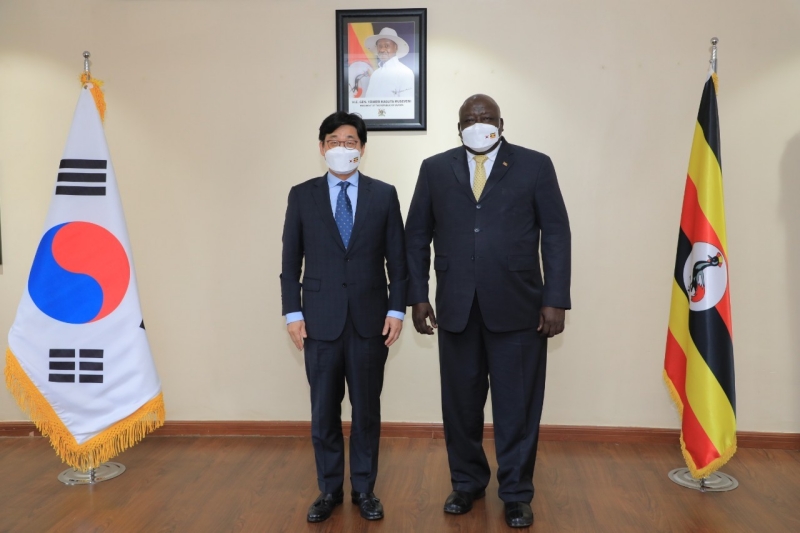 1. Vice Minister of Foreign Affairs Choi Jongmoon visited Uganda on November 8-9 and had a meeting with Okello Oryem, Minister of State for Foreign Affairs in charge of International Affairs of the Republic of Uganda. The two sides discussed ways for substantive cooperation between the two countries and cooperation in the international arena and exchanged views on regional affairs.
◦ In order to expand substantive cooperation, Vice Minister Choi requested the Ugandan government's attention and support for development cooperation* and the expansion of the Korean companies' participation in Uganda's development of key infrastructure including roads**, railways and airports.
* Total amount of Korea's ODA to Uganda
- Yrs. 1990 to 2020 : USD 200 million
- Year of 2021 : USD 14.31 million(22 projects)
** As its first PPP project, the Ugandan government plans to build a 95km highway between Kampala, the capital, and Jinja, the second biggest city . The new highway will play a significant role in overland trade between Uganda and its neighboring countries such as Kenya, South Sudan, Tanzania and etc.
◦ Minister of State Oryem commended Korea as Uganda's trustworthy friend and hoped that Korean companies increase their investment in various Ugandan industries including manufacturing, agriculture, tourism, and development of oil and gas in order to achieve the Uganda National Vision 2040*.
* The Ugandan government's mid and long-term national development plan, announced in April 2013 which aims to place Uganda as a mid-high income country with its GDP per capita of 9,500 US dollars by 2040.
2. Meanwhile, Vice Minister Choi requested Uganda's support for Korea's candidacy for the post of the next Director-General of the International Labour Organization (ILO) and the 2030 World Expo in Busan, and asked for Uganda's cooperation for the Seoul Peacekeeping Ministerial (12.7.-8.) and the 5th Korea-Africa Forum (12.9.-10.) to be held in December.
3. Uganda is Korea's ODA Priority Partner Country and a core partner in East African region, and Vice Mnister Choi's visit to Uganda has served as an opportunity to further vitalize bilateral cooperation.
Next Vice Minister of Foreign Affairs Choi Jongmoon Visits Rwanda
Prev Vice Minister of Foreign Affairs Choi Jongmoon Visits Cameroon