HOME
Press
Ministry News
Ministry News
Ministry News 상세보기
Vice Minister of Foreign Affairs Choi Jong Kun Holds Bilateral Meeting with Vice Minister of Foreign Affairs of Ecuador
Date : 2021-11-11 13:09:42
Hit : 2371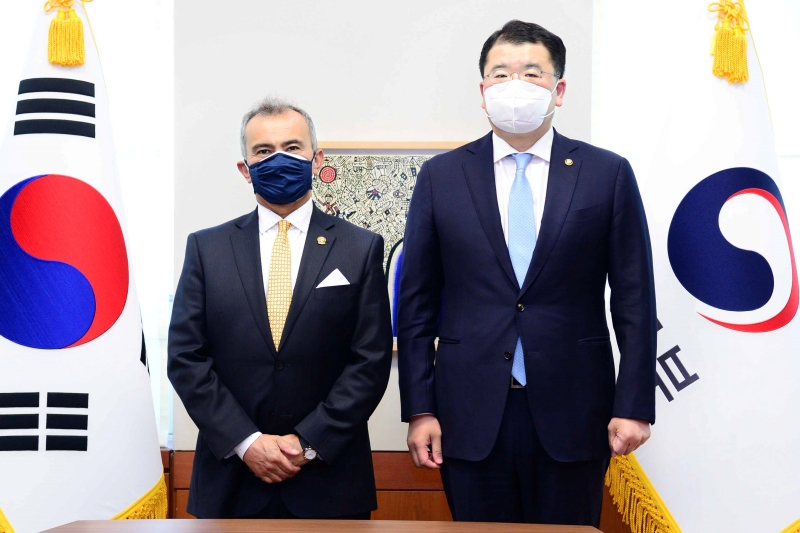 1. On November 10, Vice Minister of Foreign Affairs Choi Jong Kun had a bilateral meeting with Vice Minister of Foreign Affairs of Ecuador César Montaño who visited Korea to attend a Korea-Pacific Alliance Green Economy Forum.
2. Vice Minister Choi, warmly welcoming Vice Minister Montaño's visit to Korea, noted that it held great meaning as the first visit by a high-level Ecuadorian official since the launch of the new Ecuadorian government in May 2021. He expressed his sincere hope for the further development of the bilateral ties such as through various events to mark the 60th anniversary of diplomatic relations between the two countries next year.
° In particular, Vice Minister Choi requested cooperation so that the Korean Airports Corporation, which has great strengths in terms of airport design and operation, could participate in the Ecuador Manta Airport operation project. Vice Minister Montaño stated that he did take deep note of the excellence of the Korea Airports Corporation and would accord his sincere consideration to the request by the Korean government.
3. Vice Minister Montaño stated that he was indeed impressed with the recent advances of Korea's aerospace industry, and expressed the hope to cooperate with Korea in the field of satellite observation for monitoring the marine environment of the Galapagos Islands. Vice Minister Choi welcomed the proposal and suggested that the two countries expand their collaboration beyond development cooperation to pursue solid ties of future-oriented cooperation such as in the green economy, aerospace and satellites.
Prev Outcome of the APEC Ministerial Meeting (AMM, Nov. 8-9)