HOME
Press
Ministry News
Ministry News
Ministry News 상세보기
Remarks by President Moon Jae-in at Korea-Colombia Summit
Date : 2021-08-26 13:52:39
Hit : 2097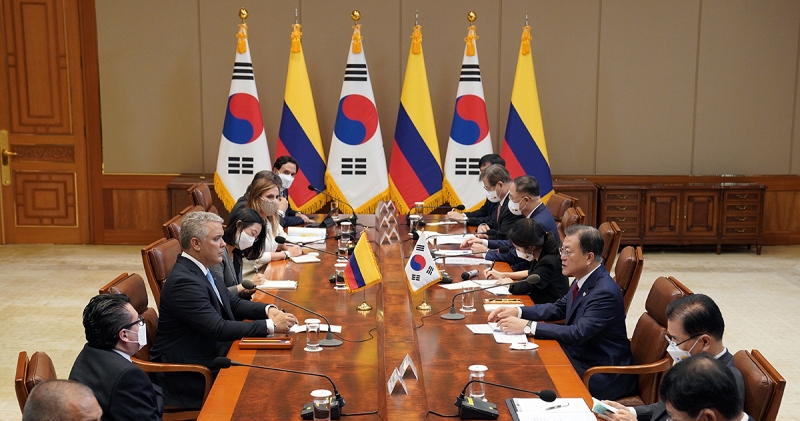 (Unofficial Translation)
Since we attended the P4G Seoul Summit together, I am pleased to see Your Excellency – as if meeting an old friend.
Colombia is the only Latin American country that participated in the Korean War. After arriving at the Port of Busan 70 years ago, the troops from the Colombian Battalion distinguished themselves in many important battles and suffered noble sacrifices.
On the grounds of Colombia's Ministry of National Defense in Bogota stands a monument commemorating the battles of "Kumsong" and "Old Baldy." In Incheon, Korea, a memorial stands in honor of Colombia's participation in the Korean War. Our two peoples will forever remember the young Colombians who fought together and shed blood for the sake of Korea's freedom and peace. I am grateful to the war veterans, their relatives and the people of Colombia. Koreans will never forget the special friendship of Colombia that helped Korea in times of adversity.
Under President Duque's leadership, Colombia has become the fastest growing country in Central and South America. The "Orange Economy" and "Commitment to Colombia" policies are rapidly reshaping the country, and Colombia became a member of the OECD last year, contributing to global economic growth beyond Latin America.
Next year will mark the 60th anniversary of Colombia and Korea establishing diplomatic ties. Our two countries have been paving the way for mutual prosperity through complementary economic cooperation and forged a strategic cooperative partnership in 2011, setting an example of forward-looking, comprehensive collaboration.
As the hosts for the second and third P4G Summit, Korea and Colombia will work closely together to respond to the global climate crisis. Moreover, our two countries will further advance bilateral relations and expand cooperation in the face of new challenges, including those related to food, healthcare and the Fourth Industrial Revolution.
I hope that Your Excellency's state visit to Korea and today's summit will serve as an opportunity for our countries to expand substantive cooperation in a variety of areas and move forward together on a path toward prosperity.
Thank you.
@ Follow the link to go to the Cheong Wa Dae website
Next Outcome of Korea-Lao PDR Foreign Ministers' Meeting and Dinner
Prev Remarks by President Moon Jae-in at Korea-Kazakhstan Summit