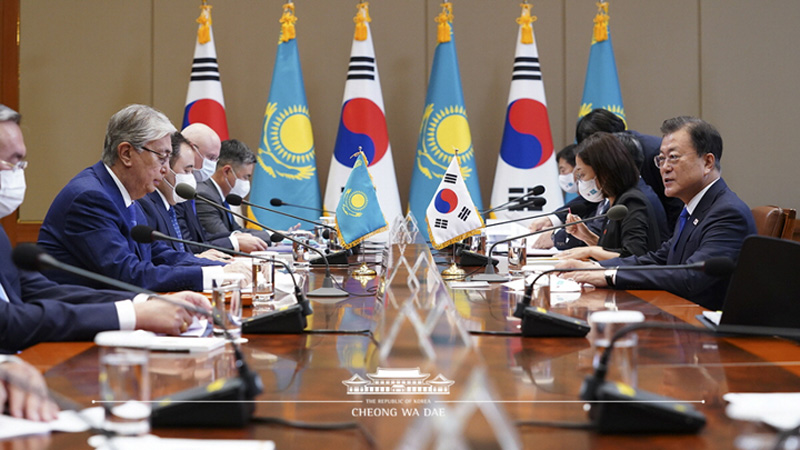 (Unofficial Translation)
Your Excellency President Tokayev,
I still vividly remember the hospitality extended to me during my visit to Nur-Sultan two years ago, and I am very glad to see you once more here in Seoul now. You are the first state guest the Korean people have greeted since the COVID-19 outbreak. I am pleased to have you as a special guest in the year marking the 30th anniversary of the independence of Kazakhstan and the 76th anniversary of the liberation of the Republic of Korea.
To the Korean people, the battles of Fengwudong and Qingshanli, in which General Hong Beom-do led troops, are a very important part of the history of Korea's independence movement against imperial Japan. All Koreans will be grateful to you and Kazakhstan and long remember your cooperation with the repatriation of the General's remains, following those of the independence activists Gye Bong-woo and Hwang Woon-jeong in 2019.
Since its independence, Kazakhstan has been the fastest growing Central Asian country through active market opening and cooperation. As the chair of the WTO Ministerial Conference as well as a leading founding member and chair country of the Conference on Interaction and Confidence-Building Measures in Asia (CICA), Kazakhstan is also exhibiting leadership in multilateral cooperation. I am confident that – with the President's outstanding leadership at its center – Kazakhstan will be able to achieve its goal of emerging as one of the world's top 30 advanced countries by 2050.
Koreans have a lot of affection for Kazakhstan. The center of the Eurasian continent, the country boasts a beautiful culture created by the interaction of East and West. Like its name "Kazakh," the country is open and tolerant. The ties between our two countries trace back to exchanges along the ancient Silk Road. In addition, the Korean people remember and feel truly grateful for the welcoming hearts of the Kazakh people, who warmly embraced the ethnic Koreans forced to migrate from the Russia's Far East about 80 years ago.
Kazakhstan is Korea's biggest trading partner and investment destination in Central Asia. Our two countries have developed friendly and cooperative relations over the past 30 years since the establishment of diplomatic ties, and we have maintained close communications through vibrant non-face-to-face exchanges despite the COVID-19 crisis last year. Kazakhstan is an important partner of my Administration's New Northern Policy, and our bilateral relationship has a lot of potential for further progress going forward. I hope that your state visit this time will serve as an opportunity to further deepen the friendship between our two countries and for us to move forward together on the road toward prosperity.
President Tokayev,
I would like to express my sincere gratitude once more for the affection shown by the people of Kazakhstan and ethnic Koreans there. I look forward to our bilateral relations advancing further like that of brotherly countries.
Thank you.