HOME
Press
Ministry News
Ministry News
Ministry News 상세보기
Remarks by President Moon Jae-in Leaving Cornwall after G7 Summit
Date : 2021-06-18 16:00:38
Hit : 8517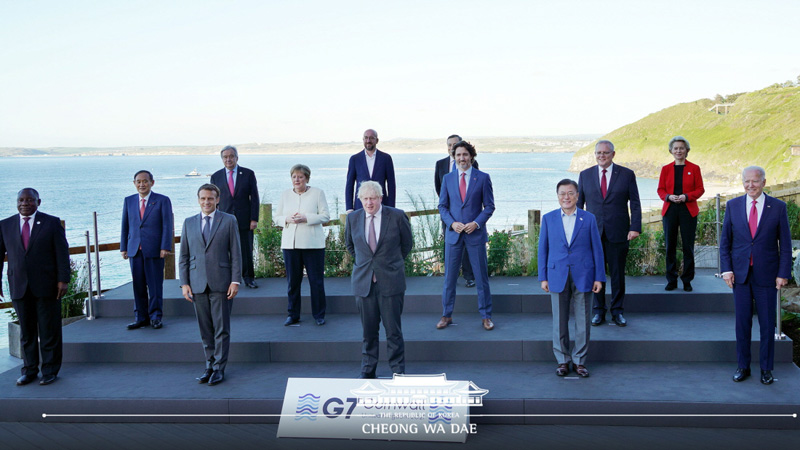 (Unofficial Translation)
I was invited to the G7 Summit and successfully wrapped up all of the scheduled events. The leaders participating from countries that are responsible members of the global community exchanged candid views on relevant topics – healthcare, open societies, climate and environmental issues. We, too, pledged to play a part – commensurate with our national stature and strength – in making the world sustainable. Importantly, we stressed our role as a bridge between advanced and developing countries.
The meetings held on the sidelines of the G7 Summit have been very meaningful. AstraZeneca's CEO Pascal Soriot and I discussed cooperation in vaccine production. German Chancellor Merkel and I exchanged opinions on how to work together on Germany's advanced vaccine development. Australian Prime Minister Morrison and I talked about cooperation in the hydrogen economy. At the meeting with President of the European Council Michel and President of the European Commission Leyen, we concurred on the need for green and digital cooperation.
President Macron of France and I pledged to promote cooperation going forward in such areas as cutting-edge technology, culture and education. This will provide opportunities to broaden our diplomatic horizon as well as expand and advance cooperation in the digital and green sectors. My first face-to-face encounter with Prime Minister Suga of Japan was a precious moment that could have marked a new beginning in bilateral relations, but I regret that it did not lead to an official meeting.
While participating in the G7 Summit, two historical events lingered in my mind. One was the International Peace Conference held in The Hague in 1907. The patriotic martyr Yi Jun, a secret emissary of our Emperor, arrived there via the Trans-Siberian Railway to call attention to imperial Japan's deprivation of Korea's diplomatic rights, but he couldn't even enter the conference room. The other was the Potsdam Conference, through which the Korean Peninsula's division was decided. We were not even able to speak up as our fate was determined by the major powers of the day.
Today, the Republic of Korea has become one of the world's 10 largest economies and a country where people – with unrivaled civic awareness – act in unison for democracy, epidemic prevention and control and carbon neutrality. Now, we have become a nation that can determine our own destiny and engage in mutual support and cooperation with other countries.
Many countries hope to work together with us. We are also able to raise our own voice for a sustainable world. It is truly a proud achievement made possible by our people.
Throughout the G7 Summit, I took part in meetings fully cognizant of my representing the Korean people. I am proud of the Republic of Korea.
Thank you very much.
Next Remarks by President Moon Jae-in at 4th Korea-SICA Summit Held Online
Prev Opening Remarks by President Moon Jae-in at Korea-Australia Summit on Sidelines of G7 Summit