HOME
Press
Ministry News
Ministry News
Ministry News 상세보기
Korea-U.S.-Japan Foreign Ministers' Meeting in London
Date : 2021-05-06 11:05:28
Hit : 5274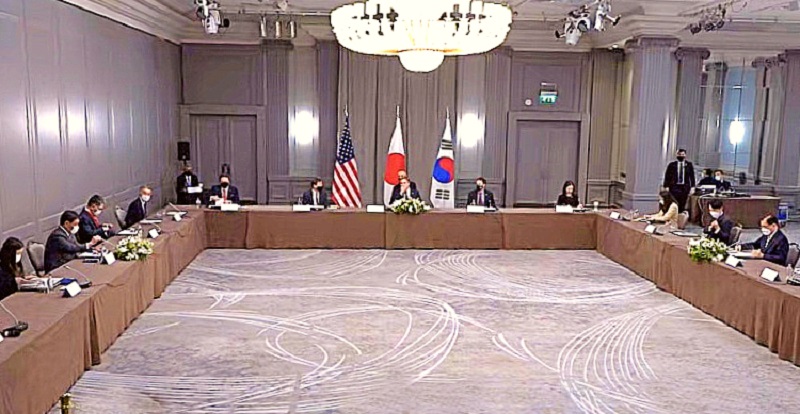 1. Minister of Foreign Affairs Chung Eui-yong held a Korea-U.S.-Japan Foreign Ministers' Meeting with U.S. Secretary of State Antony J. Blinken and Japanese Foreign Minister Toshimitsu Motegi on the morning of May 5 (local time), on the occasion of the G7 Foreign and Development Ministers' Meeting in London. They exchanged views on trilateral cooperation to address issues on the Korean Peninsula, as well as regional agendas.

2. The three ministers appreciated that their three countries have closely communicated on North Korea issues and agreed to further strengthen cooperation to make substantial progress in achieving complete denuclearization and establishment of permanent peace on the Korean Peninsula.

o Secretary Blinken shared the outcome of the U.S. policy review on North Korea with his Korean and Japanese counterparts. The three ministers committed to continue close communication and cooperation in implementing North Korea policy.

3. The three ministers also reaffirmed the importance of the Korea-U.S.-Japan trilateral cooperation and committed to continue mutually beneficial and forward-looking cooperation to promote peace, security, and prosperity in the region.
Next Outcome of Republic of Korea-Japan Foreign Ministers' Meeting (May 5)