HOME
Press
Ministry News
Ministry News
Ministry News 상세보기
Vice Minister of Foreign Affairs Choi Jong Kun Meets with Outgoing Saudi Arabian Ambassador to Korea
Date : 2021-03-25 16:06:19
Hit : 2690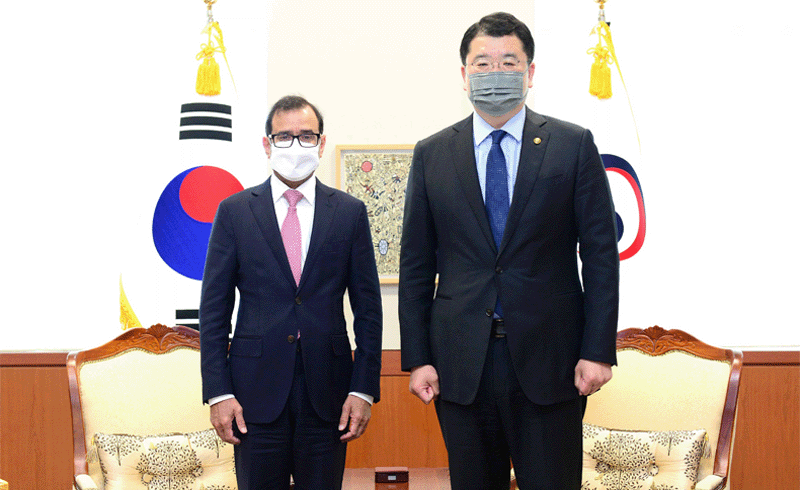 1. Vice Minister of Foreign Affairs Choi Jong Kun met with outgoing Saudi Arabian Ambassador to Korea Riyadh bin Ahmad bin Jasser Al-Mubaraky on March 24.


2. Vice Minister Choi highly appreciated the Ambassador for his contribution to strengthening bilateral relations since taking office as Ambassador to Korea in 2016.


o Vice Minister Choi also stressed that Korea, as a key strategic partner for the "Saudi Vision 2030," will continue working together with Saudi Arabia in a wide range of areas.


3. Ambassador Al-Mubaraky said that he was delighted to complete his diplomatic career in Korea, and that even after leaving office, he will spare no effort to further solidify bilateral relations through high-level exchanges and the 60th anniversary of the establishment of diplomatic relations between the two countries in 2022.


4. In addition, Vice Minister Choi commended the leadership of Saudi Arabia that led solidarity and cooperation among the member states at the Gulf Cooperation Council (GCC) Summit in January this year as well as the latest efforts by Saudi Arabia for peace and stability in Yemen.


Next "2020-2021 Year of Mutual Exchange between Korea and Russia" Kicks Off
Prev Outcome of Meeting between Foreign Ministers of Korea and Guatemala