HOME
Press
Ministry News
Ministry News
Ministry News 상세보기
Outcome of Meeting between Foreign Ministers of Korea and Guatemala
Date : 2021-03-23 14:52:33
Hit : 2971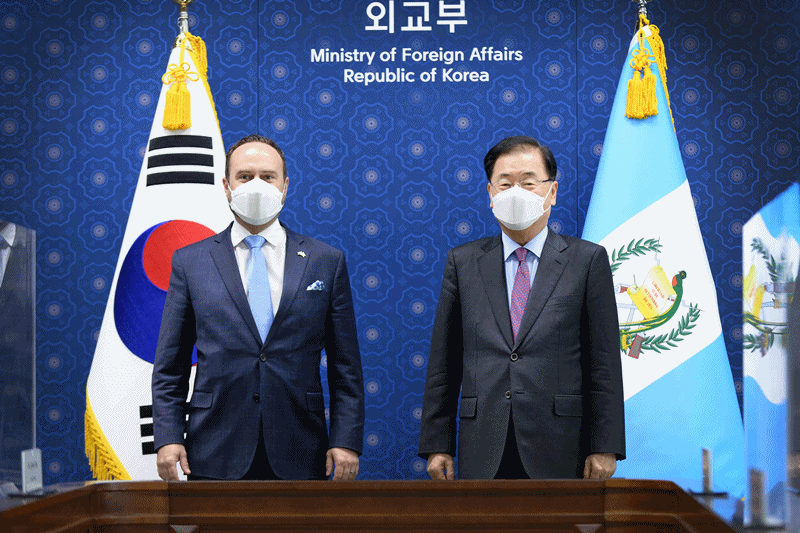 1. On the afternoon of March 19, Minister of Foreign Affairs Chung Eui-yong had an in-person meeting with Minister of Foreign Affairs of Guatemala Pedro Brolo Vila, who was on a visit to Korea to attend the "Korea-LAC (Latin America and the Caribbean) Digital Cooperation Forum," and exchanged a broad range of views on matters of mutual interest between Korea and Guatemala including the bilateral relations, post-COVID-19 substantive cooperation, and regional cooperation.


2. The two sides took note of the advances in the Korea-Guatemala relations in various sectors since the establishment of diplomatic relations in 1962, and agreed that the two countries, of which the year 2022 will mark the 60th anniversary of diplomatic relations, will further expand and advance the ties of friendship and cooperation through close communication despite the COVID-19 situation.


° In particular, Foreign Minister Chung asked for the Guatemalan government's special attention and support to ensure the safety and business activities of some 7000 Koreans and about 150 Korean companies in the country.


° Foreign Minister Brolo extended appreciation to the Korean government for its solidarity and assistance on Guatemala's response to COVID-19 and the natural disaster in 2020, and voiced hope to continue high-level exchanges with a view to future cooperation between the two countries.


3. The two Foreign Ministers agreed on the need to expand substantive cooperation in diverse areas including infrastructure and digital transformation, in the post-COVID-19 era. Foreign Minister Brolo expressed Guatemala's will to join the Korea-Central America FTA as well as hope to increase bilateral trade and investment.


4. As this year marks the bicentennial of the independence of Central American countries and the 30th anniversary of the establishment of the Central American Integration System (SICA), the two Foreign Ministers agreed to hold close consultations in order to further enhance Korea-Central America cooperation.


5. Foreign Minister Chung looked forward to Guatemala's continued support for the efforts to make substantive progress in the Korean Peninsula peace process through cooperation with the international community, and Foreign Minister Brolo pledged the Guatemalan government's unwavering support.



Next Vice Minister of Foreign Affairs Choi Jong Kun Meets with Outgoing Saudi Arabian Ambassador to Korea
Prev Outcome of Meeting between Foreign Ministers of Korea and Costa Rica